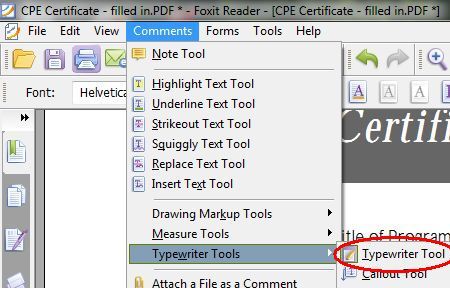 The PDF format is great for sharing documents, but it can be a hassle, too. For example, have you ever received a PDF containing form data, only to find that Adobe Reader won't let you complete any of the fields?
That happens when the PDF is created without the necessary administrative rights. In other words, it's like the editing capability for that document was turned off. Sure, you can always print the PDF and fill it in by hand, but doesn't that defeat the whole purpose of an electronic document?
The solution is to use a PDF reader that allows editing even when the PDF itself does not. I recommend Foxit Reader, which, among other things, lets you add text to any PDF.
The first time you run Foxit, it'll ask if you want to make it the default PDF viewer. That's entirely up to you, but I find Foxit to be smaller, faster, and less intrusive than Adobe Reader (though it doesn't offer quite the same level of security).
To edit a PDF, start by opening it in Foxit instead of Reader. Next, click Comments, Typewriter Tools, Typewriter Tool. Now just click wherever you want to add text, then start typing. (The program offers other markup tools as well, in case you're interested.) When you're done, you can save, print, or e-mail your marked-up document.
Foxit Reader is free, but be sure to decline the Ask.com toolbar it tries to sneak in during installation. (Ironically, just last week I wrote about this kind of 'sneakware'–with Adobe Reader a prime culprit!)