Microsoft rolled out the latest and greatest version of its Internet Explorer browser, IE9, here at South by Southwest in Austin, Texas. The browser's main interface is far simpler than that of previous IE versions. IE9 supports HTML5 and, and utilizes graphics card acceleration for graphics-heavy animated images. And, judging from the demonstrations I saw here, I'd say IE9 is the biggest leap forward by a new Microsoft browser in many, many years.
Microsoft's main selling point behind IE9 is the browser's ability to tell the graphics card in the PC to speed up to render graphics and motion more quickly. "IE9 is the first browser to take full advantage not only of the CPU but also the GPU (graphics processing unit)," said Microsoft's Ari Bixhorn.
Other browser makers all do some form of hardware acceleration in their producrs, but Microsoft seems to be focusing on it more than the others, and believes it knows how to rev up the CPU and GPU to dramatically increase site performance better than its competitors.
More Attractive, More Interactive Sites
IE9 lets developers put a lot of motion and advanced Web graphics on their pages, Microsoft says, and the IE9 sites demonstrated here tonight bore that out. Icons and small images dance on the screen and change shape. Video runs independently in the background. Maps appear in 3D with moving markers and animated people. IE9 also accelerates text, audio and video, Microsoft says.
To demonstrate the effect of hardware acceleration, Bixhorn pulled up an IE9 site in Firefox running on a MacBook. Predictably, the site rendered slowly, and the movement of the small images and background video was slow and jerky. He then ran an HTML5 gaming site running on Chrome– same result. (A Google spokesperson said her company had no comment on Microsoft's demonstration.)
Technologizer's Harry McCracken points out that while it's great that Microsoft is accelerating Webpages, developers have to design sites that work well on all browsers. A site whose magic depends heavily on the kind of hardware acceleration only IE9 offers might run horribly for Firefox users, and no developer wants to frustrate a whole class of site visitors. So the head-to-head comparison may not be so meaningful in reality. Hopefully, McCracken says, IE9's graphics acceleration will inspire other browser makers to increase their own acceleration.
Privacy Protection
With IE9, Microsoft addresses a growing concern among consumers about sites that track their movement around the Web by dropping a cookie in their browser. With a new feature called Tracking Protection, IE9 allows users to block specific sites from dropping cookies. To use the tool you have to add a Tracking Protection List from one of the Tracking Protection List providers.
Site Design Matching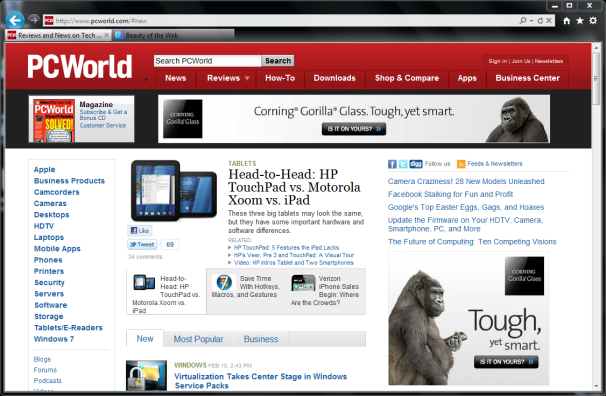 Microsoft talked about the browser's ability to customize to the sites it's running. You can "pin on" square shortcut buttons to the bottom of the browser that lead to specific sites. The buttons themselves are dynamic. For instance, if you are on another page with a download completes on the page corresponding with the icon, the icon starts to blink. If the icon is for an e-mail page, a number appears over the icon showing the number of new e-mails in your inbox.
IE9 can also adopt some graphic traits of the site it's displaying. For example, when visiting Facebook the top task bar changes to Facebook blue, and the Facebook logo displays at the left of the address bar.
Microsoft says that interest in this browser version has outpaced any in the past. The rough draft of the browser was downloaded 40 million times prior to launch, Microsoft says, before it launched already has two percent of the Windows 7 market.
IE9 is now available for download at beautyoftheweb.com