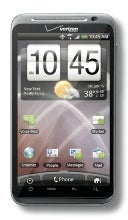 HTC's Thunderbolt is the first smartphone to use the Verizon Wireless 4G LTE network, and it'll be available on March 17 for $250. The phone has a 4.3-inch display, Android 2.2 and a 1 GHz Snapdragon processor, with HTC's Sense interface running on top, but that's not the whole story. Here's what to like and dislike about the HTC Thunderbolt:
Hot: (Mostly) Honest 4G
The term "4G" has become meaningless now, with the International Telecommunications Union expanding the definition to basically include anything faster than current 3G networks. But at least Verizon isn't trying to pass off slight tweaks to its own 3G network as next-generation wireless, as AT&T and T-Mobile are doing with HSPA+.
Verizon's LTE, available in 38 U.S. markets, is a new network technology, and not surprisingly, it smoked the competition in PCWorld's 4G speed tests.
Not: Tethering Limits
When it comes to actually enjoying Verizon's LTE network, there's one caveat: Verizon is giving Thunderbolt users free mobile hotspot capabilities until May 15, and it'll cost $20 per month after that. In other words, Verizon is double dipping just like AT&T, limiting your data use but charging extra to use it in a certain way.(This story previously said Verizon will cap 4G data use at 5 GB per month, but that won't be the case. Verizon does plan to stop offering unlimited data plans, possibly later this year, the Associated Press reports.)
Hot: Maximum Storage
A lot of Android phones tout expandable storage but stiff you with an empty MicroSD card slot. The Thunderbolt, however, includes 8 GB of memory on-board, plus a 32 GB MicroSD card preinstalled. That makes it one of the most spacious smartphones on the market, and gives buyers one less thing to worry about.
Not: Android 2.2? Seriously?
Three months have passed since Google introduced Android 2.3, and yet phone makers continue to an outdated version of the operating system. Sure, Gingerbread wasn't a huge update, but it added helpful everyday features like one-touch copy and paste, an improved keyboard, a download manager and more efficient power consumption. On the bright side, HTC has a good track record for updating its Android phones, but in general the Android upgrade process is a total mess.
Hot: The Kickstand Returns
First introduced in HTC's Evo 4G, I'm glad to see the kickstand return on the Thunderbolt. It's not just a utility, it's a statement that the phone's 4.3-inch screen is big enough to watch movies from a distance.
Not: Pricier Than Most
The typical going rate for an Android smartphone is $200. The HTC Thunderbolt costs $250. I guess you'd be paying a premium for the extra storage and 4G capabilities, but for that price it'd be nice to see a dual-core processor, at least. Power-hungry Verizon smartphone buyers might want to wait for Motorola's Droid Bionic.
Follow Jared on Facebook and Twitter as well as Today @ PCWorld for even more tech news and commentary.