A couple weeks back I wrote about Sumatra PDF, a speedy and lightweight replacement for slow and lumbering Adobe Reader. I really hit a nerve! Several readers wrote in with their own assessments of Adobe Reader and favorite PDF readers. I'll share their suggestions this week, and give you some tips for working with Foxit Reader (one of my favorite apps). But first, an open letter to Adobe.
Adobe, Are You Listening?
Dear Adobe,
You almost got me. After opening a PDF in Adobe Reader 9, I decided to accept your pop-up offer to upgrade to version 10 (also known as Adobe Reader X). A few seconds later, I was staring at your download page, with its bright yellow Download now button just waiting for my click. Easy-peasy.
But then, with my index finger poised over the mouse button, I noticed something on the righthand side of the page–you know, the area often reserved for ads. In fact, it kind of looked like an ad, which is why my eyes initially passed over it. But then I looked closer, and here's what I saw: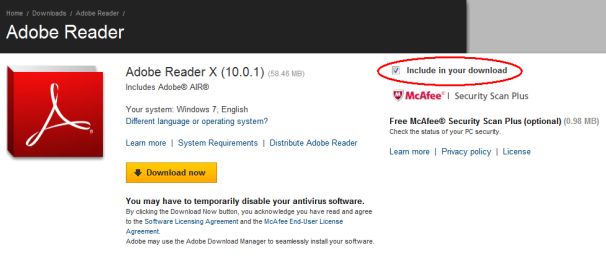 Hey! You were going to sneak McAfee Security Scan Plus onto my system, as evidenced by the already checked "Include in your download" box. I wonder how many thousands of users never noticed that, then sat there scratching their heads trying to figure out how this mysterious security utility ended up on their systems. I wonder how many suspected it of being a fake, then wasted time and/or money trying to remove it. I wonder what kind of impact the software had on system performance, especially on machines already equipped with other security software. (When these kinds of tools overlap, they can actually cause problems.)
Bad Adobe. Bad! Alas, you're not the only culprit of this obnoxious behavior. As I wrote in How to Avoid Unwanted Toolbars: "many shareware, freeware, and even commercial programs try to slip in a browser toolbar during installation; and if you're not paying attention, you might click right past the setup screen that lets you opt out. For example, when you install a Java update, you'll end up with the Yahoo Toolbar unless you uncheck a box along the way."
There's only so many times I can caution readers to pay close, careful attention when installing anything–even from a company as seemingly trustworthy as yours. How about you accept a little of the responsibility? If you're going to try to shovel unwanted third-party software onto users' systems, at least leave the box unchecked by default.
Remember, users have plenty of alternatives to Adobe Reader–like, say, Sumatra PDF. Do you really want to give them another reason to switch?
Your friend in computing, Rick
Need to Edit a PDF That Can't Be Edited? Here's How
The PDF format is great for sharing documents, but it can be a hassle, too. For example, have you ever received a PDF containing form data, only to find that Adobe Reader won't let you complete any of the fields?
That happens when the PDF is created without the necessary administrative rights. In other words, it's like the editing capability for that document was turned off. Sure, you can always print the PDF and fill it in by hand, but doesn't that defeat the whole purpose of an electronic document?
The solution is to use a PDF reader that allows editing even when the PDF itself does not. I recommend Foxit Reader, which, among other things, lets you add text to any PDF.
The first time you run Foxit, it'll ask if you want to make it the default PDF viewer. That's entirely up to you, but I find Foxit to be smaller, faster, and less intrusive than Adobe Reader (though it doesn't offer quite the same level of security).
To edit a PDF, start by opening it in Foxit instead of Reader. Next, select Comments, Typewriter Tools, Typewriter Tool. Now just click wherever you want to add text, then start typing. (The program offers other markup tools as well, in case you're interested.) When you're done, you can save, print, or e-mail your marked-up document.
Foxit Reader is free, but be sure to decline the Ask.com toolbar it tries to sneak in during installation. (Adobe isn't the only company that tries to push unwanted software.)
Reader Suggestions
herbk98 says: "Cute PDF Writer. Download and install it. It's small, it's free, and it reads, writes, and prints .pdf files. Some of the best things in life are, indeed, free."
mikeyr says: "Nitro PDF Reader. The free version is great and will surprise you with its small footprint and robust features."
ulimrose says: "The constant request for updates of Adobe Reader was annoying. I switched to PDF-XChange Viewer years ago."
If you've got a hassle that needs solving, send it my way. I can't promise a response, but I'll definitely read every e-mail I get–and do my best to address at least some of them in the PCWorld Hassle-Free PC blog . My 411: hasslefree@pcworld.com . You can also sign up to have the Hassle-Free PC newsletter e-mailed to you each week .