The Verizon iPhone has been on the U.S. market for a little over a month — one month and six days, to be exact — but it has already snapped up 10 percent of the U.S. iPhone market share. This shouldn't be too surprising, considering Verizon reportedly sold a million iPhones during the opening weekend.
This news comes from Chitika Insights, the research arm of online advertising network Chitika, and is based on its AT&T vs. Verizon live tracker. The mobile ad firm set up the tracker, which tracks the relative percentages of AT&T iPhones and Verizon iPhones that show up on the company's network.
At the time of the tracker's launch — just a day after Verizon started selling iPhones — the tracker showed Verizon iPhones at 3 percent (Chitika's Dan Ruby very vaguely estimated about 900,000 Verizon iPhones based on this percentage).
Well, now the number has jumped (surprise, surprise) to nearly 10 percent. That's right, one in every 10 iPhones (that includes older iPhones still in commission) is a Verizon iPhone! Go Verizon!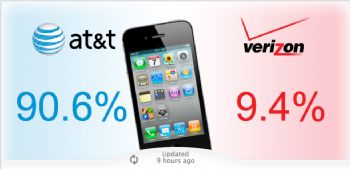 Of course, it's important to note that Chitika's information is not 100 percent accurate. After all, it only measures the percentage of Verizon iPhones that its network sees, and the number changes over time due to measurement fluctuations. Earlier Tuesday, Boy Genius Report reported that the Verizon share was a whopping 12.4 percent (one eighth of the market share), but a look at the website now says 9.4 percent.
So, yeah, it's not entirely accurate, but it's a decent measure of how Verizon's doing in its battle against AT&T. Also, for those of you who are AT&T customers (and who don't plan to switch over), be sure to text "YES" to 11113020 by March 31 to get 1000 free rollover minutes.
Follow Sarah on Twitter (@geeklil) or at sarahpurewal.wordpress.com and Today @ PCWorld on Twitter.