This is no surprise, but Motorola's Xoom Wi-Fi is finally official.
The first Android Honeycomb tablet goes on sale sans 3G on March 27 for a suggested retail price of $599, and will be available from Amazon.com, Best Buy, Costco, RadioShack, select Sam's Club locations, Staples, and Walmart. If previous leaks are accurate, Sam's Club may even sell the Xoom for $539.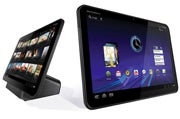 Motorola has already launched the Xoom on Verizon's 3G network for $799, with a free but time-consuming hardware upgrade in the works to support Verizon's 4G LTE network. While that's $70 more expensive than a comparable iPad 2, the Xoom Wi-Fi is on par with a 32 GB iPad 2 with Wi-Fi.
The announcement of a Wi-Fi Xoom has been a long time coming. In February, Motorola Mobility Chief Executive Sanjay Jha said the company would sell a Wi-Fi version of its tablet for around $600. And yesterday, retailer B&H jumped the gun and started taking pre-orders.
The big news here is support from major retailers such as Best Buy and Walmart, who should have a lot more foot traffic than Verizon's stores. And Best Buy's tablet section has been pitiful to date, consisting of a Samsung Galaxy Tab, a Dell Streak, and some Huawei tablet that's never been functional during any of my store visits. Compared to this motley crew, the Xoom might have a chance against the iPad 2, which sits in it own little section at my local Best Buy.
Motorola's press release says a beta version of Adobe Flash 10.2 will be available as a download, not preloaded onto the device. And it says nothing about the software update that will eventually make the Xoom's MicroSD slot operational. If you want an iPad 2 alternative, you may still want to heed the advice of reviewers and wait a few months for more options. Android 3.0 needs that time to get some proper tablet apps under its belt, anyway.
(See also "Which Tablet Works Best? Apple iPad 2 vs. Motorola Xoom vs. Samsung Galaxy Tab.")
Follow Jared on Facebook and Twitter as well as Today @ PCWorld for even more tech news and commentary.