ZuniDigital announced the new ZuniConnect Travel today. The pocket-sized portable device packs a variety of crucial features and functions than traveling gadget geeks and intrepid road warriors need when trying to stay connected.
When I travel, I generally have my laptop, my iPad, my iPhone, and maybe even a Kindle if I am really packing the gadgets. Each device will run out of juice and need to be charged. Each device needs some sort of network connectivity. Don't even get me started on family trips with even more computers, smartphones, and other gadgets.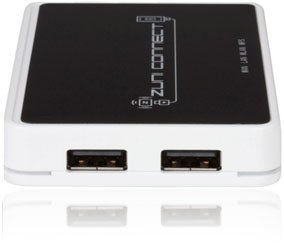 Inevitably, the hotel room has only one available electrical outlet–unless I want to plug my devices into the wall in the bathroom. I am often left to choose between charging my iPad or having the lamp plugged in, or between plugging in my laptop or the bedside alarm clock. The problem is, I need my laptop, and I need my iPad charged, but I'd also like to have a lamp and an alarm clock.
What is even worse than the lack of electrical outlets, are the networking options at some hotels. There are hotels that still lack Wi-Fi networks and require an actual Ethernet connection. Some hotels that offer Wi-Fi have exorbitant fees associated–and I have even been in hotels where I was expected to pay that fee separately for each Wi-Fi connected device. That $10 a day for wireless networking racks up quickly when you connect all of the gadgets.
Then there's the security aspect of hotel Wi-Fi networks. Namely that there isn't any–security that is. The last two hotels I stayed in at least had a password set up in order to connect with the WiFi network, but the password is handed out freely at the front desk, and rarely–if ever–changed, so it offers little to no protection. Even if access to the Wi-Fi network is restricted to legitimate current guests of the hotel, the fact that your devices are all sharing the same network makes your network traffic vulnerable to eavesdropping and interception.
That is why this ZuniConnect Travel device is a must-have. The pocket-sized device can take a wired Ethernet connection and turn it into a Wi-Fi hotspot. It can take a hotel Wi-Fi connection and share it with multiple devices–creating your own secure hotspot within the Wi-Fi network. It provides multiple USB charging ports to let you recharge your various gadgets.
Mark Engler, president of ZuniDigital, states, "Consumers have asked for a single product giving them the most secure portable wireless router capability combined with a convenient option for integrating SmartPower charging. We wanted to help bridge the gap between wired Ethernet and today's smart devices, streamlining the social, entertainment and mobile communication experience for those traveling outside their network."
At only $60, the device is reasonably affordable and should be a staple for any traveling gadget geek or road warrior.