Remember Google Wave, the innovative although sadly unloved e-mail and chat hybrid that was retired last year? Well, it sounds like Google couldn't stand to turn it out into the cold, and several of its features have made their way into Google Docs.
As of Wednesday, the Google Docs word processor features a clever group discussion feature that offers Wave-like features, such as the capability to edit chat comments once they've been made. Like Wave, the new feature borrows a little from chat and e-mail, and the intention is to make it much easier for people to communicate when collaboratively working on a document.
Previously comments could be inserted into documents just like within any word processor, and would appear as call-outs in the gutter at the right. Additionally, if a document was edited by more than one person, all parties could text chat in a primitive way by clicking the sharing notification.
The new feature introduces a button marked Discussion to the top of the page that, when clicked, opens a floating chat window. When users type comments they're time and date stamped, and the user's name and picture appear alongside.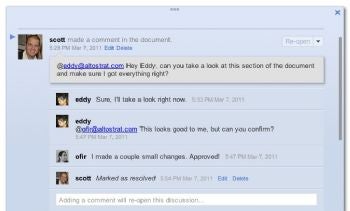 Crucially, users can edit the comment at a later date (including replies to comments), and also mark comments as resolved. They can use the @ sign to specify an person to whom the comment will then be sent as a message, along with a link to open the document (although this only works if the document was previously shared with the individual). Google Docs is clever enough to raid your Gmail contacts book to autocomplete e-mail addresses.
If the individual who receives the e-mail replies to it, it will be automatically added as a fresh comment (a specially formatted and unique e-mail address is used). Alternatively, the recipient can open the document via the link that's provided and add a comment manually.
Additionally, any in-document comments inserted (by clicking Insert – Comment) are also added to the discussion flow within the floating window, and can also be sent to individuals using an @ callout.
It's a pretty sweet feature and works well in practice. I can imagine many ways it could be improved. At present the new feature only works in the word processor, for example, but there's no reason why it can't be included in other apps (there are hints it'll be incorporated soon). Additionally, it'd be great if–just like with Wave–discussion messages could have attachments, so items like pictures could be auditioned between staff members before being inserted. Wave also allowed users to include widgets, such as tools that allow voting. Again, it would be awesome if that appeared here: workers could vote on particular document modifications.
I suspect that Google might not be entirely happy about the comparisons to Wave, however. Indeed, they may have deliberately kept the new discussions feature nice and unambitious at the present time to avoid comparisons.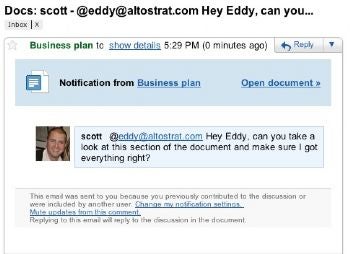 As with all new Docs features rolled-out by Google, it might not be available to all users immediately, but it will be soon. Google Apps for Business users should also find it arriving soon, although not those who've opted for the scheduled release track.
The Discussion tool further enhances the killer feature of Google Docs: collaborative editing. Yes, Google Docs significantly lags behind Microsoft Office in terms of features, but when it comes to collaborative editing, the two are not in the same league. Office offers nowhere near the simplicity and accessibility of the collaborative working methods provided by Google Docs.
If nothing else, Docs is a poke in the eye to Sharepoint, Microsoft's own collaborative toolkit. Sharepoint is still built around the client-server model, just how Microsoft likes things, and proves that–arguably–Microsoft just doesn't get how we work today.
Keir Thomas has been making known his opinion about computing since the last century. His latest Kindle ebook has just gone on sale . You can learn more about him at http://keirthomas.com . His Twitter feed is @keirthomas .