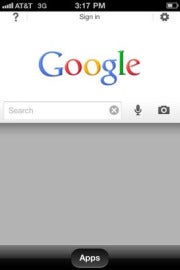 The Google Mobile App for iPhone is no more. In its place is Google Search, a revamped iPhone app that puts a bigger emphasis on–you guessed it–searching the Web.
The difference is immediately visible on the app's main menu. Google's logo now dominates the top third of the screen, with the search bar positioned underneath. This home screen still provides access to settings and a menu of Google app shortcuts, but once you start a web search, those options slide away from view. In the old version, settings and apps were always available from a bar along the bottom of the screen.
The other big change to Google's iPhone app is the addition of search filters, accessed by swiping in from the left side of the screen. These filters — places, news, images, shopping and so on — look a lot like the sidebar on Google's desktop Website.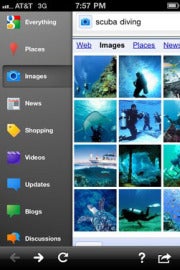 Between the logo, the clean white background and the filters, Google's iPhone app now feels a lot more like the desktop website, but from a mobile perspective. I'd like to see the quick filtering option make its way to Google's mobile website, because when I want to search the Web, my first instinct is to open the browser, not a native app. No word from Google on that front.
Follow Jared on Facebook and Twitter for even more tech news and commentary.