Computer maker Asus may launch a 10-inch netbook this June for $200-$250 powered by Google Chrome OS or possibly Android 3.0, current online rumors suggest. The device would have a single core Intel Atom chip and be targeted for people who want to use basic productivity applications or browse the Web, according to Taiwan-based Digitimes.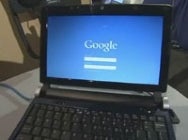 Sundar Pichai, vice president of product management at Google, recently said Chrome OS devices would hit store shelves by midyear. Since Asus is one of Google's Chrome OS partners expected to debut a netbook in 2011, a Chrome OS laptop in June appears more likely than an Android device.
Google debuted Chrome OS nearly two years ago, but the search giant and its partners including Hewlett-Packard, Lenovo, Toshiba, as well as Asus have yet to launch a Chrome OS-based netbook. Chrome OS is essentially Google's Chrome browser with limited driver support for hardware components. Netbooks running Chrome OS will depend primarily on online data storage with a small amount of onboard drive space.
Clock Ticking
A Chrome OS device may have been an interesting idea when it first debuted in July 2009. But since the debut of the iPad in early 2010, followed by other one-panel slates, the time for a Google PC may have passed. Just like Chrome OS netbooks, tablets are designed to be a PC substitute for those times you don't want to lug around a more powerful laptop. This direct competition between netbooks and tablets has led many analysts and critics to argue the tablet is cannibalizing netbook sales. Market research firm Canalys recently predicted that for every 10 tablet devices sold in 2011, five netbooks or full-sized laptops will remain on store shelves.
Apple is already shipping more iPads than some single netbook manufacturers. The company sold about 15 million iPads in 2010, while Asus shipped just 6 million of its popular Eee PC netbooks during that same time. Analysts have also predicted big gains for Apple's iPad 2 with as many as 500,000 sold in the first three days of the product's launch. Apple has not announced any official iPad 2 sales numbers.
Glimmer of Hope
The one advantage a Chrome OS netbook could have over tablets would be pricing, if recent rumors of a $200 Asus device turn out to be correct. The cheapest iPad currently costs $500 and Motorola recently announced its Android-based Wi-Fi only Xoom tablet will sell for $600. If Asus can launch a Chrome OS netbook that costs half as much as an iPad, that may be enough to woo people away from touch-based tablets and back to a more traditional laptop device.
Connect with Ian Paul (@ianpaul) and Today@PCWorld on Twitter for the latest tech news and analysis.