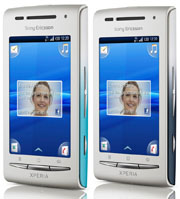 Although Gingerbread 2.3.3 is steadily rolling out to particular cellphone providers and their handsets, there are still companies that are not so sure about offering the Android update. One of these companies for instance is Sony, but that hasn't stopped the developers over at XDA creating their own ROM to port the software over to various devices, such as the Sony Xperia X8.
In just a day, XDA forum member "Jerpelea" managed to get a stable-enough CM7 CyanogenMod custom ROM running from their own Xperia X8, and is constantly building up the ROM for it to work both more efficiently and on more handsets.
So far, the Gingerbread ROM supports Wi-Fi, audio, sensors, video, GPS, 3G, camera, data, streaming, and more. That said, you still can't tether a phone using the hack and there are still a few bugs (mostly involving the camera). Jerpelea and other developers are working on fixing these issues, though. Other developers are also attempting to use the ROM with the Sony Xperia X10 Mini, but have differing results.
If you want to give the ROM a try on your X8, the Git file is available from the forum thread. But be careful: Although most of the forum members have found CM7 to be quite stable on their handset, others are encountering a few issues. Follow the guidelines within the thread carefully.
Like this? You might also enjoy…
Get your GeekTech on: Twitter – Facebook – RSS | Tip us off