The Rustock botnet–one of the most prolific sources of spam–went silent this week. Microsoft worked with security vendors and the civil court system to pull the plug on Rustock. Some security experts question, though, if the absence of Rustock will have a significant impact on spam volume, or whether we have truly heard the last of Rustock, or if it is just dormant for a while.
Rustock is the same botnet that recently went silent–apparently taking a break for the 2011 holiday season. A post on the Microsoft on the Issues blog describes how Microsoft used the lessons learned from squashing the Waledac botnet last year to apply a combination of legal and technical methods for taking down the more vast and complex Rustock botnet.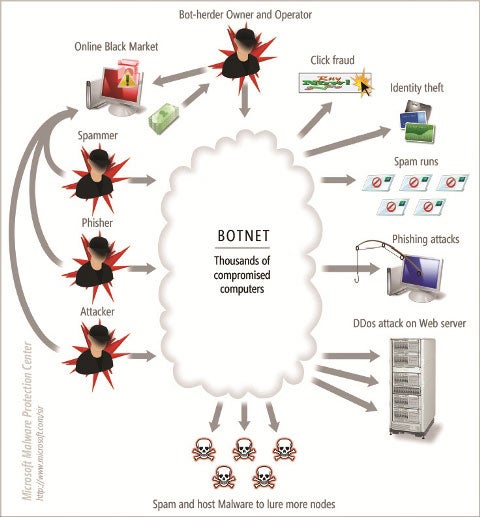 The Microsoft post explains, "Rustock's infrastructure was much more complicated than Waledac's, relying on hard-coded Internet Protocol addresses rather than domain names and peer-to peer command and control servers to control the botnet. To be confident that the bot could not be quickly shifted to new infrastructure, we sought and obtained a court order allowing us to work with the U.S. Marshals Service to physically capture evidence onsite and, in some cases, take the affected servers from hosting providers for analysis."
The confiscated servers helped Microsoft and its partners knock Rustock offline, and are also providing valuable forensic evidence for security experts to analyze to learn more about the intricate inner-workings of the botnet infrastructure.
Symantec confirms that traffic from the Rustock botnet ceased as of 11:30am Eastern time on Wednesday, March 16. However, Symantec isn't confident that the absence of Rustock will have a significant impact on the volume of spam being spewed.
A Symantec spokesperson commented that, although Rustock has been a dominant source of spam–accounting for nearly half of all spam in 2010, it is too early to tell if killing Rustock has much effect. "In the last few months, other botnets have increased their output to match–or even exceed–that of Rustock. As a result, the takedown of this major botnet hasn't had much noticeable effect on the overall amount of spam and email traffic patterns appear normal.
AppRiver's Troy Gill is not so sure we have heard the last of Rustock. Gill notes that AppRiver did see a drop in spam levels as the Rustock command and control servers were disrupted, but adds "Interestingly, we have seen general, overall spam levels creep back to their previous levels in the past few hours. Although it is too early to tell for sure, this disruption appears to be temporary, similar to the 10-day disruption of Rustock back in November of 2010."
Whether it is permanent, or Rustock has the resilience to bounce back, Microsoft's ongoing efforts to combat this botnet and others–working with a team of legal and technical partners–is welcome, and it should be congratulated.