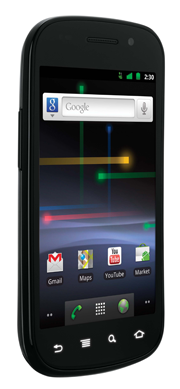 The Nexus S smartphone from Google is coming to Sprint this spring, with added 4G flavors and Android 2.3 Gingerbread. Manufactured by Samsung, the Nexus S 4G will cost $199 with a two-year contract and will run you at $80 per month (including Sprint's $10 monthly 4G tax) for unlimited Web, texting and calling.
Like its GSM sibling, the Nexus S 4G is powered by a 1GHz processor, 512MB of RAM and has a 4-inch display with a curved design, supposed to be more confortable when held against your face. The camera on the back of the Nexus S clock 5-megapixels, while the front-facing camera for video calls is VGA.
The Nexus S 4G still has just 16GB of on-board storage and there's no SD card slot for memory expansion, like we've come to expect from most Android devices as of late. Connectivity-wise, the Nexus S fares better though, with Wi-Fi (b/g/n), Bluetooth and GPS, topped up by 3G and 4G mobile hotspot capabilities, which support up to six Wi-Fi devices connected simultaneously.
Sprint's version of the Nexus S will come with Android 2.3 preinstalled, with no manufacturer customizations to the OS (vanilla), which in theory should make upgrading the OS a quick and simple affair. Sprint also enabled Google Voice capabilities on the Nexus S 4G, allowing for up to six devices to be managed via one single Sprint phone number.
Specs compared: Nexus S vs iPhone 4
The Nexus S 4G also features Near Field Communications (NFC) technology, which can be used to read information embedded in stickers and posters with NFC chips built-in, like the ones Google is spreading in Portland.
The Nexus S, originally introduced in December 2010, was available either unlocked for $529 or $199 with a two-year T-Mobile contract. The GSM version was also compatible with AT&T's network, but because of frequency differences, users are able only to connect to the EDGE network.
In PCWorld's review, the Nexus S received 4 out of 5 stars.