Opera Mini 6 and Mobile 11 are now available for a handful of smartphone and tablet platforms, including Android.
Opera Mini uses servers to compress and render pages, while Opera Mobile uses the same rendering engine as the Opera desktop browser and supports HTML5, but both browsers are getting the same new features, including pinch-to-zoom and sharing of Web pages. Android tablets are also now supported. I've been poking around with both browsers on a Droid Incredible, and while this isn't a full review, here are some observations on Opera Mini 6 and Mobile 11: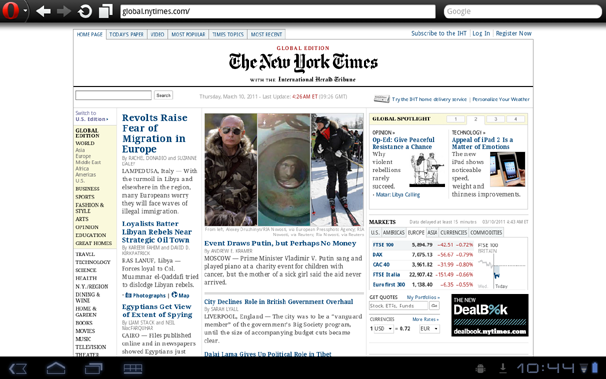 Finally, Proper Pinch-to-Zoom
Opera Mini's previous inability to zoom freely was a deal-breaker, but now the browser supports full pinch-to-zoom on multitouch devices. Text renders instantly, and you have the option of reformatting text to fit the screen.
Background Tabs Make a Good System Better
Opera Mini and Mobile's tabs, which appear as thumbnails when you tap a button, are an elegant cross between the dedicated tab bars of desktop browsers and the separate tab menu on Android's native browser. Now, opening a link as a new tab in Opera Mobile and Mini loads it in the background instead of the foreground. It's a welcome change, but the option to do either would be nice.
It's Less Red
Opera's red color scheme is less noticeable in Mini 6 and Mobile 11 because the page title bar on top of the screen has been changed to dark gray. Your eyes will thank you later.
Still Needed: Better Copy/Paste, Menu Support for Android
Opera Mini and Mobile use their own copy and paste methods instead of their devices' native interfaces. This allows Opera to add new context-sensitive options, such as searching the Web for a snippet of text, but the system is far less accurate than Android's native copy-and-paste, because there's no way to adjust the start and end points of your selection.
Also, the browsers still don't make use of the hardware menu button on Android phones. It's too bad, because that space on the screen could be used for something else, like bookmarks.
Apple Snubbed — For Now
The iPhone is still stuck on Opera Mini 5, and there's no Opera Mobile for iPad yet, but an Opera representative told PCWorld to stay tuned.
In the Android Market — For Now
This month, Opera added its own app store, which on Android devices allows you to purchase and install apps through the browser. Google forbids apps from having their own app stores, and has invoked this policy before, so I wonder how long Opera Mini and Mobile will last in the Android Market.
Follow Jared on Facebook and Twitter for even more tech news and commentary.