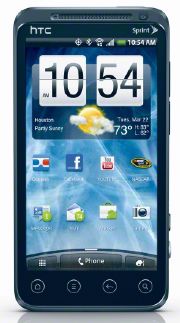 It was pretty apparent that Sprint was announcing something 3D-related when its PR people started handing out 3D glasses to attendees at the carrier's big presser today at CTIA 2011 in Orlando, FL. Enter the HTC EVO 3D arriving this summer on Sprint's 4G network. Pricing has not yet been announced.
(Also from CTIA: Hands-On With the T-Mobile G2x )
The first 4G phone with a qHD 4.3-inch 3D display. The EVO 3D is powered by a 1.2 GHz dual-core processor and sports dual 5-megapixel rear-facing cameras for 3D photo and video capture. The processors support advanced 3D technology including full 1080p 30 frames per second HD video and stereoscopic 3D video capture and playback. Another sweet detail is that the EVO 3D will ship with the latest version of Android 2.3 aka Gingerbread. It also will come with a 4G hotpsot and you can connect up to 5 Wi-Fi-enabled devices to it.
Personally, I think 3D on a small phone display is a bit of a gimmick. When I played with the LG Optimus 3D, I wasn't too impressed with the glasses-less 3D display. It looked grainy and a bit distorted. Then again, I've also spent some time playing with the Nintendo 3DS and was quite impressed with its 3D games. HTC hardly ever skimps when it comes to design so we'll just have to see how the EVO 3D looks.
Sprint took a page out of Verizon's "Droid" playbook by marketing other phones under the "EVO" name. At CES, we saw the EVO Shift 4G. It is a smart move as the EVO 4G is the fastest selling phone on Sprint and the first 4G phone to hit the market.
We have briefings with both HTC and Sprint later today so stay tuned for our full impressions with photos and videos from the show floor.