At a Glance
Expert's Rating
Pros
Excellent battery life
Great display and good multimedia features
Cons
Type can look small on the 10.1-inch display
Very poor benchmark performance
Our Verdict
Compact and attractively priced, the Aspire One 522 delivers great battery life and multimedia performance, but doesn't have much raw computing power.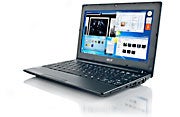 The Acer Aspire One 522 (model BZ897) is a good, classic netbook with a very reasonable price ($330 as of March 18, 2011). Petite and slim, with a handsome 10.1-inch widescreen LED-backlit display, a 250GB hard drive, an integrated 1.3-megapixel Webcam, and a multitouch touchpad, this portable does a solid job with multimedia and boasts pretty good battery life–nearly 7 hours on the provided six-cell battery, in our tests.
If you're looking for anything approaching ultraportable-class computing power, though, don't expect to find it here. Outfitted with AMD's new 1GHz Fusion C50 dual-core CPU, 1GB of DDR3 1066 MHz RAM (of which 256MB is reserved for the integrated Radeon HD 6250 graphics), and Windows 7 Starter Edition, the Aspire One 522 turned in a puny mark of 32 on our WorldBench 6 test suite, slightly worse than the scores that some Intel Atom-powered competitors have managed and well below the level of most dual-core notebooks. (You might get more oomph by upgrading the memory to the supported 2GB of RAM.) Gaming scores were poor, too, even for a netbook.
Still, while I wouldn't want to run large spreadsheets or edit video on the Aspire One 522, it's certainly adequate for watching Web video or making a video call. The 1280-by-768 display is exceptionally bright and crisp, the audio is fairly robust for a netbook, and the Webcam captures okay video. In a Skype call I made to family members in China, the Aspire One dropped some frames here and there, but otherwise call quality was fine. I also enjoyed watching a bunch of YouTube music videos on the machine.
A word of caution about the display: Due to the small screen size, type generally looks small at the standard screen resolution. This isn't a netbook I'd want to use extensively for perusing text on Websites.
Nor does the Aspire One 522 invite long bouts of typing. The keyboard (described by Acer as 93 percent of full size) adopts the so-called island Chiclet style, but the keys have no surface contouring whatsoever, which makes it all too easy for your fingers to slip to a neighboring key as you touch-type. It works fine for dashing off an e-mail message, but gets tiresome for anything more taxing.
I'm not a big touchpad fan, but I did appreciate the multitouch capability of Aspire One 522's touchpad, which supports pinch and zoom on Websites. The Elan touchpad felt more stable and consistent than the corresponding feature on some competing netbooks.
The Aspire One 522 provides a respectable array of connectivity options, including 802.11n (2.4GHz) Wi-Fi, 10/100 ethernet, HDMI and VGA display ports, a multiformat card reader, three USB ports, and (most unusually for a netbook) a Kensington lock slot.
Tipping the scales at 2.6 pounds with the six-cell battery in place, the Aspire One 522-BZ892 feels a tad heavy for its small footprint (10.2 inches by 7.3 inches by 1 inch), but not annoyingly so. The shiny black case (emblazoned in this instance with a large Acer logo) is standard fare for a netbook; Acer's implementation at least feels solid.
The amount of trial- and promo-ware, ranging from the New York Times Reader to a bunch of games in the so-called Acer Welcome Center, was irritatingly large. Probably the most useful item in this bundle is Acer's eSobi newsreader. You also get the ubiquitous Microsoft Office Starter Edition.
Overall, the Aspire One 522-BZ892 seems perfect for no-frills netbook use. It's the type of portable you can easily toss into a handbag or backpack and pull out whenever you want to browse the Web, watch videos, or make video calls. Its great battery life and modest price tag are huge assets; and if you like your netbooks small (and you don't plan on doing lots of typing or number crunching), the Aspire One 522-BZ892 is well worth a look.