When I graduated from college in 2009, I'd heard the spiel over and over again: Be careful what you post on the Internet, lest it haunt you when you try to get a job. I mostly brushed this off: I knew what I was posting; hiring managers had better things to do than Google me; and I didn't want to work for a super-conservative company, anyway.
Then my mother sent me an e-mail with a photo she'd found of me–not an embarrassing one, but still not terribly professional. If my mother–whose most advanced technological skill is hitting Ctrl-C to copy text–could find that photo, what could a hiring manager with a middle-schooler's level of technological savvy unearth?
A whopping 70 percent of human resources professionals have rejected potential candidates because of their online information, according to a Microsoft study. The good news: 86 percent of HR professionals said that a positive online reputation favorably influenced a candidate's application to "some extent."
So not only does your online presence matter, it can actually help you get a job. Here's how to spruce up your online presence to appear more attractive to hiring managers.
Find Yourself (on the Internet)
If you have any Web presence at all–even an anonymous blog or a habit of forwarding annoying e-mail messages to relatives–you should Google yourself regularly. Occasionally, you'll also want to run an in-depth online background check. And depending on the industry you want to work in, you may want to pay for a professional online background check. Here are some tips for finding yourself:
1. Search for your name in quotation marks (such as "Steven Smith") and without them (Steven Smith) to see what comes up. Also search any variations of your name (like "Steve," "Steve-o," and "Stephen") as well as all the usernames you use for any online service, in case hiring managers try to be clever.
2. Use site-specific searches for the Websites of companies you have worked for and schools you have attended. This is especially important if you're looking for jobs that require a certain presence. For example, searching Google for site:pcworld.com Sarah Jacobsson Purewal proves that I'm not lying when I say I write for PCWorld.
3. Use keywords. Hiring managers will most likely look for information relevant to the job you're applying for–such as "Sarah Jacobsson Purewal" freelance writer, but go ahead and search for your name along with worst-case-scenario terms–such as "drunk," "arrested," or "wanted"–just in case. This is also a good way to find out if you share a name with a criminal or otherwise unsavory character. In one sense, this may be better for you, since you can attribute any bad search results to the other person; on the other hand, it's probably no treat to look for a job if your name happens to be Ted Kaczynski.
4. Besides regularly searching for your name on Google, check people search engines such as Spokeo, Pipl, and ZabaSearch. These search programs aggregate information from the Web, so they don't maintain a database of people. But you can still take steps to try to stem the flow of your data to these sites.
Also, consider checking out your "social networking score" at sites such as MyWebCareer and Klout–but don't put too much faith in these, as they base their judgment on your social networks, not on your actual online footprint. For example, both of those sites failed to find my online footprint at all–mainly because I'm registered with Facebook and Twitter as Sarah Purewal, not as Sarah Jacobsson Purewal.
5. Scan the public profiles you have, even if you don't think they will appear in search results. This includes your profiles on shopping sites (including eBay and Etsy), your profiles on Web forums where you leave comments, and your Amazon wish list, which is especially prone to popping up in random search results.
Another tip for job seekers: Always ask prospective employers why they turned you down. Not only will you have a chance to learn from your mistakes , but if the rejection is related to an incriminating online past, you'll know what to focus on.
Be Smart About What You Post
Some online companies are waging a war on Internet anonymity, and they have a lot of your data. Facebook, for example, is targeting and taking down fake profiles, and both Facebook and Gmail now require phone number verification for new accounts.
Many sites permit users to sign in to their social networking accounts and "Like," tweet, or otherwise share articles and content across the Web. This is great for advertisers and content-generators, since it exposes their content to the public quickly and easily–but it's not so great for unsavvy social networkers.
This may sound obvious, but it's important to be smart about what you post to your social networks. Not only should you make an effort to make private those Facebook albums of your latest drinking binge (or not post the photos at all), but you should also be aware of what services you sign in to using Facebook or other social networks.
Here's how to be smart about what you post:
Don't use "single sign-in" features for Facebook, Google, or Twitter. This is especially important if you sign in to Websites or communities that future employers might deem controversial. Almost every site that uses these features will also allow you to sign up for an account the old-fashioned way–by filling out a Web form and verifying your e-mail address.
Have a separate e-mail address. Use a unique e-mail address to sign up for Websites that require registration. Not only will hiring managers be unable to find you based on the e-mail address you use for business, but you'll also be able to use this address as a "spam" address. I have multiple e-mail addresses, one of which i use specifically for signing up for frivolous or controversial Websites that may or may not spam me.
Keep separate accounts. You can have multiple Facebook accounts (remember to use different e-mail addresses), set up a public Facebook page (and keep a private Facebook profile), or keep your personal and business social networks completely separate. LinkedIn is the "business" social network, and many people find it easier to keep all of their business contacts there exclusively.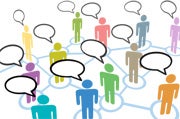 If you do keep separate accounts, do not friend your colleagues on your personal account. Why? Because at least one of your colleagues will be friends with a ton of other colleagues–even the CEO of your company–and by various degrees of separation with everyone in the industry. Remember, it takes just one contact to set off a ripple effect.
Be aware that you are your network. Your photo album of last night's keg stand may be private, but what if your buddy's photo album that tags you doing last night's keg stand isn't? Ensure that the people closest to you use appropriate privacy settings and exercise reasonable discretion. Though you can "untag" yourself from Facebook photos, smart searchers will be able to figure out who your friends are and check their profiles. Also, beware of leaving yourself vulnerable in a school or city network. You and a hiring manager may not be Facebook friends, but she can easily ask a shared contact to look you up for her.
Use privacy settings. On Facebook, you can set photo albums as private so that they are viewable only by certain people–not by your entire network of friends. On Twitter, you can protect your tweets so that even people you follow can't see them. Before you register for any other Websites, look up their privacy policies and then tailor your settings to your liking.
Be consistent. Don't say that you graduated from New York University on LinkedIn if you're listed in the University of Florida network on Facebook. If you're going to lie, at least be consistent.
Recent Stanford graduate Cassaundra Vergel says she strips down her Facebook profile during a job search–but she doesn't make it entirely hidden to the public, because many businesses are looking for people who have at least some social-media savvy.
Next page: How to make social networking work for you…
Make Social Networking Work for You
Your social networks don't have to be well-kept secrets, and sometimes they shouldn't be. For certain positions, being socially capable online is a boon. Paul Garaud, a former marketing and student services associate for Manhattan GMAT, found that the most successful candidates for a college marketing associate position tended to have a large number of Facebook friends.
"Their social networks appeared to have a direct impact on their ability to populate our on-campus events," Paul says in an e-mail, "But this isn't to say that it was the only, or even a primary, consideration."
Here are some ways to use social networking effectively to make yourself a more attractive job candidate:
Remove bad or embarrassing content. Let's say you've Googled yourself, and the first hit is a drunken LiveJournal post about how you got arrested in Amsterdam. Clearly you should delete this, or contact the site manager of the site and request that it be deleted. Unfortunately, if the site manager refuses to cooperate, there's not much you can do.
Push bad or embarrassing content down by uploading new content. The most effective way to get embarrassing stories of yourself off of the front page of Google search results is to start uploading new content. You can start a blog or a Twitter account, or get in the habit of updating your Facebook status constantly. Another good idea is to register a domain name in your professional name, so you'll appear higher in search results.
Take one for (your) team. If you remove bad content or push it down, people may still be able to find it using Google cache or the Wayback Machine. However, you can e-mail removals@google.com or even set up a Google account as a Webmaster to ask the search giant to remove sensitive data about yourself.
Of course, prospective employers would need to know what they're looking for in order to make a fruitful specific search through the past, so the odds that this might happen are fairly slim. But if something in your past could be a dealbreaker, it may be better to let employers know about it ahead of time. That way, you can explain the bad content and take responsibility for your actions–excellent qualities in an employee.
Brand yourself. If your name is rather common, consider adding a middle name or initial to differentiate yourself from the crowd. After all, social networking will work for you only if employers can find you.
Post or tweet content that's connected to the industry you're seeking work in. Here's where you start making yourself more attractive as a candidate. Start posting links to articles and stories about your industry–let's say it's consumer technology–to your various social networks.
You don't have to stop there, either. Career expert Tim Tyrell-Smith of Tim's Strategy blog suggests choosing another venue, such as Flickr, and posting relevant content there, too. For example, if you're interested in consumer technology, you could post a bunch of photos of the latest trade show or new product to your Flickr account. This shows the hiring manager you're passionate about the industry you want to work in, even if you're not currently getting paid for your efforts.
Engage with your target company. Most job seekers have one or two target companies they'd love to work for, says Tyrell-Smith. Instead of sitting back and waiting for the hiring manager come to you, go to them. "Like" them on Facebook, follow them on Twitter, and interact on their social networking pages. Not only will this demonstrate that you're interested in the topic, but it will also show that you'll be sociable within the company if you're hired.
If you're unemployed, sharing content is even more important. By sharing content and keeping yourself up-to-date on your industry, you can prove to hiring managers that you're interested in being a part of their company. Such efforts will also serve as concrete evidence that you haven't been sitting around playing video games all day long (just most of it).
Network. As Garaud says, sometimes having lots of friends is a good thing–especially if you're vying for a marketing or public-relations position. Networking online can help you get your foot in the door because people will feel that they already "know" you through a social network profile, says Tyrell-Smith.
Don't swear online. Just don't do it. Some people don't care, but many others find it distasteful and unprofessional.
Go Forth and Get Hired!
The good news is that your online presence can be a good thing overall. It shows that you're sociable, tech-savvy, and (hopefully) aware of what you release to the Web.
The bad news is that you can't let it all hang out once you find yourself employed. We've all heard of people who got in trouble at work thanks to thoughtless status updates.
It turns out that my mother is more Web-savvy than I gave her credit for. About once a week I receive an e-mail from her featuring some new photo I've uploaded or some story I've written, now that she has mastered the art of Google Alerts. The moral of that story: Even if the hiring manager looks like a 63-year-old lady from Parkersburg, West Virginia, that doesn't mean she won't be able to find your keg stand pictures.