A lot has changed in the browser universe since Firefox 3.0 launched in June 2008. Google Chrome burst onto the scene, and has undergone frequent updates since then. Microsoft released IE 8 and IE 9. Safari advanced from version 3 then to version 5 now.
While Mozilla made some improvements in Firefox 3.5 and 3.6 that improved performance and bolstered the feature set, Firefox started to feel like it was falling behind the curve. Firefox 4 makes Firefox competitive again, with its updated interface and improved performance.
Firefox Gets a Makeover
The first thing you'll notice is that Firefox 4 has a new look. Like many other modern browsers, Firefox 4 is designed to be as streamlined and as simple as possible. The Mozilla designers did a good job at simplifying the browser while maintaining the flexibility that Firefox is known for.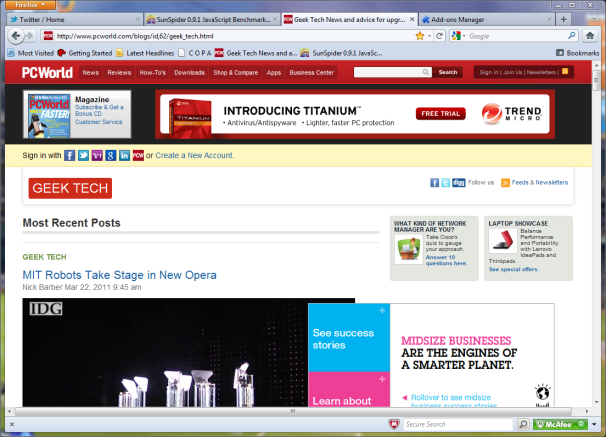 By default, Firefox 4 shows the address bar, a search field, the typical back/forward/reload/home buttons, the tab bar, and an orange "Firefox" button in the upper-left corner. There is no menu bar by default: Clicking the orange Firefox button brings up a single, well laid-out menu that contains most–if not all–of the menu items you're accustomed to using in older Firefox versions. I was a little thrown off by this button, though; most new browsers have their tools menus on the far-right edge of the toolbar, whereas the Firefox button is on the upper-left, but I was able to adjust fairly quickly.
If you're a Firefox power user–or just prefer the old way–you can bring back the classic menu bar by clicking the Firefox button, mousing over "Options," then selecting "Menu Bar" from the drop-down.
Pinning Web Apps
Another Chrome-inspired feature in Firefox 4 is the ability to "pin" Web apps to the tab bar. Open up any Web app (or any Web page, really) in a new tab, right click the tab, then select "Pin as App Tab." This will add a tab showing only that page's icon to the far left edge of the tab bar.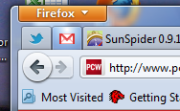 When you close then re-open Firefox, the pinned tabs will remain there. Whenever something in the Web app you pin updates–say, you get a new message in your Gmail inbox–the pinned tab will turn blue to notify you (again, very similar to Google Chrome).
These additions are great if you use lots of Web apps, but they're features that Chrome already has, so it does feel a bit like Firefox is playing catch-up here.
Stop Following Me!
Like IE9, Firefox now includes a feature to prevent sites from being able to track what you do online. This is a welcome addition, but it isn't without its problems. For one, it's an all-or-nothing feature–it's either on or off; there's no way to let some sites through and block others. And it isn't really universal yet: When you enable tracking protection in Firefox, it'll use what are called HTTP headers to tell the site that you don't want to be tracked. A simplified way of putting it is that when you visit a Website, Firefox will send a message to the site that you don't want to be tracked.
The problem is that Websites don't have to honor this request, thus rendering the tracking protection feature useless. Mozilla is working to make this feature an industry standard, so hopefully things will improve in time.
Speed
Firefox 4 also sports a number of new features designed to improve page loading and rendering performance. Firefox 4 can take better advantage of your graphics card than Firefox 3.x could; using it to play videos, for example. Firefox 4 also includes an updated JavaScript engine that should improve performance of Web apps and certain elements of Web pages.
We haven't done any in-depth speed testing of Firefox 4, but we did test its JavaScript performance using the SunSpider 0.91 benchmark. Firefox 3.6 completed the test in 1103 milliseconds (ms) on average, which was the slowest among the major browsers (Safari, IE9, Chrome, Firefox, Opera). Firefox 4 completes the test in 363 ms on average, making it competitive with other current browsers (In my testing, all browsers averaged between 329 and 439 ms.)
Granted, your mileage may vary based on your hardware, operating system, and other factors, but there's no denying the fact that Firefox 4 is much faster at handling JavaScript than Firefox 3.6.
Stay in Sync
New in Firefox 4 is Firefox Sync, which lets you sync your bookmarks, browsing history, passwords, and other data with your other computers running Firefox. (This was previously available via an extension called Mozilla Weave.).
To use Firefox Sync, go to the Options Pane (open the Firefox menu and click Options,) then select Sync from the toolbar. From there, you can create a new Firefox Sync account. Setting up an account is fairly easy–it'll ask you to enter your e-mail address and create a password–but things get a little more complicated after that.
Firefox will give you an alphanumeric "Sync Key" that you'll need to write down, save to your disk, or print to keep safe. You'll need this key to be able to access your Firefox Sync account on another PC or smartphone, and if you lose it, you're out of luck–it can't be recovered.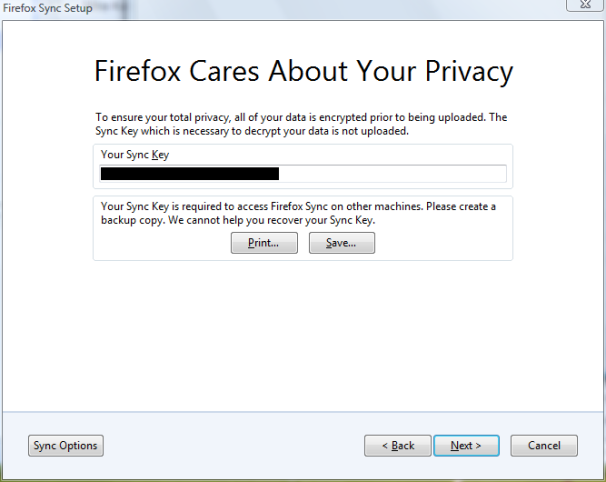 Setting up a second device (PC, smartphone, etc…) to work with Firefox Sync also requires you to jump through some security hoops as well. For example, if you've already set up a Sync account and you want to set up Firefox Sync on your laptop so it stays in sync with what you have on your desktop, you'll need to go back to your desktop and enter in an authentication code.
If you don't have access to your desktop PC at the moment–say it's at home and you're traveling with your laptop–you'll need to enter the aforementioned Sync Key. If you left your Sync Key at home, you can't access your account. This sort of two-factor authentication is a bit of a double-edged sword; it's more secure than a password alone, but it can be a hassle.
Once you get Sync all set up though, it's easy to use. Everything is handled automatically and in the background, so you won't have to manually re-sync periodically.
A Worthy Upgrade
Firefox 4 is a must-have upgrade if you're running Firefox 3.x. If you've switched from Firefox to Chrome, however, Firefox 4 may not offer quite enough to lure you back, as many of the new features–at least on the user interface end–are clearly influenced by Chrome. But no matter what, it may be worth downloading and taking for a spin.