Amazon and Apple's battle for online supremacy was ratcheted up with the launch of the Amazon Appstore for Android, and it could become even more heated if Amazon takes on the iPad by producing its own Android tablet.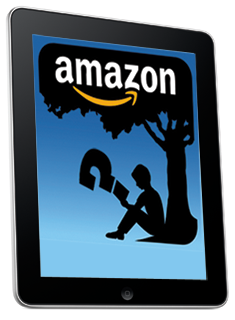 Even before Amazon started its Appstore, the companies were competing over music, video and e-book sales. Now journalists and analysts are taking note of this battle of the titans, speculating that Amazon could create a tablet that would give the iPad a run for its money.
Forrester analyst Sarah Rotman Epps got the ball rolling:
"Amazon could create a compelling Android- or Linux-based tablet offering easy access to Amazon's storefront (including its forthcoming Android app store) and unique Amazon features like one-click purchasing, Amazon Prime service, and its recommendations engine," Epps wrote. She noted that Amazon could sell a tablet "at or below cost and [make] up for it by selling content, as it does with the Kindle."
Over at Business Insider, Dan Frommer drew a similar conclusion, noting that Amazon's retail Website is a massive distribution vehicle that's already in place. "This could allow it to sell tablets at lower prices because it doesn't have to factor in a middle man," he wrote.
There's also an interesting bit of speculation from ITProPortal's Desire Athow, who guesses that Amazon is waiting for a major technological breakthrough to launch its own tablet. "That breakthrough, we believe, will come through Qualcomm and its Mirasol technology," Athow wrote, referring to a type of reflective color screen that has yet to debut in any products. Fast Company previously reported that Qualcomm invested $2 billion for a new plant to make the displays, thanks to a "major client."
Rumors of an Amazon tablet have been brewing for months. In August, Amazon went on an engineer hiring spree, and The New York Times reported that new hardware could be underway. In September, TechCrunch reported that Amazon would launch a tablet alongside its own app store. And this month, the Times spotted more job listings, suggesting that Amazon is rounding up Android developers for an Android-based Kindle.
This led PCWorld's own Jeff Bertolucci to conclude that Amazon should definitely launch its own tablet. "Amazon tablet users would have a wealth of content available from their hardware provider, a business model akin to the Apple ecosystem. (But unlike Apple iPad users, Amazon tablet customers could easily buy content elsewhere too.)," he wrote.
The buzz in the air reminds me of the Apple tablet rumors that started to pick up steam in the middle of 2009. With little in the way of specifics, don't expect Amazon to launch an Android tablet in the near future. Do expect rumors and speculation to ratchet up as pundits wonder when Amazon will jump into the red-hot tablet market.
Follow Jared on Facebook and Twitter for even more tech news and commentary.