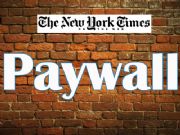 The New York Times' long-anticipated paywall goes up March 28, and the newspaper will face challenges convincing people to fork over a monthly fee since the paywall is so easy to circumvent. Starting on Monday, you will only be able to read 20 articles for free on NYTimes.com before you will be asked to pay for further access to the Times Website. If you're using the Times' mobile apps such as The New York Times for iPad you will only have free access to the 'Top News' section. If you want to see anything else on the iPad, iPhone, Palm Pre or Android and Blackberry devices you'll have to fork over anywhere from $15-$35 per month depending on the options you choose.
But there's a loophole for Web readers: if you follow a link to a Times article from blogs or social networks such as Facebook and Twitter, you'll get to read the article for free even if you've reached your monthly limit. You can also read articles for free if you find them on search engines, but you will be limited to five free articles per day after your first 20.
The Times' approach has already sparked a number of how-to articles online showing you how to circumvent the wall and still get the Times for free after March 28. It's hard to tell how many people will actually go to the trouble of circumventing the paywall as some methods are a bit of a hassle–although others are surprisingly simple.
The Times isn't the first online business to deal with this problem. Music streaming service Pandora has a similar monthly limit of forty hours of free tunes before you hit the service's paywall. After that, Pandora asks you to pay 99 cents to keep listening for the rest of the month or $36 for a full year of unlimited streaming. Despite those nominal fees, some people figured out you can get around Pandora's paywall by deleting the Flash cookies from your browser every time you hit the limit.
The Wall Street Journal, another paywall-defended newspaper, also has a well known loophole that allows you to read almost all of the Journal's content. Instead of paying you just copy and paste the Journal's headlines into Google and follow a link to the article to read it for free.
It's not clear how many people bother to 'Google launder' Journal headlines to read the articles for free or whether large numbers of disgruntled Times readers will use similar tactics. Here's a look at a few ways Times readers may cause headaches for the newspaper's paywall police.
Twitterati
It's a bit strange that the Times wants people to pay but will let anyone following a link from Twitter leap right over the paywall. The Times and its writers already have a huge presence on Twitter including tech blogger Nick Bilton, opinion columnists such as Maureen Dowd, Thomas Friedman and Paul Krugman, and a host of others listed on this page.
Unofficial Twitter feeds are getting into the game too such as FreeNYTimes that uses the newspaper's own API to push every New York Times article into Twitter. Forbes reports the Times is asking Twitter to pull this account. But others believe the Times only took issue with the feed using the Times' logos and not its unending stream of links to Times content.
There are other Twitter feeds such as FreeNYT doing the same thing as FreeNYTimes. This account also has a New York Times-centric Twitter list featuring most of the Times' Twitter accounts. Users unwilling to pay could also create their own Twitter lists selecting specific Times-related Twitter lists to follow.
Bookmarklets
Shortly after the Times began beta testing its paywall in Canada on Thursday, David Hayes, a programmer in Waterloo, Ontario, came up with a simple bookmarklet to tear down the Times' paywall. Called NYTClean this bookmarklet uses just a few lines of code to get past the newspaper's subscription requirement. All you have to do is drag the bookmarklet into your browser's toolbar and any time you run up against the paywall just click the bookmarklet and you're free and clear to read the Times. It's not clear if the Times plans on blocking NYTClean. The bookmarklet works with most major browsers.
Facebookin'
Just like Twitter, links followed from Facebook won't be blocked, so people could just visit the Times' Facebook page and access available articles from there, as well as follow links from any articles their friends may have shared on the world's largest social network.
It's not clear how many new subscribers the Times expects to gain through its new payment structure or whether there will be a full scale revolt against the Times' plans. The newspaper's publisher, Arthur Sulzberger Jr., recently said he hopes readers will see these new subscriptions as "an investment in The Times" allowing the paper to "provide high-quality journalism to readers around the world." It will be interesting to see how many Times readers agree with Sulzberger and start opening their wallets on Monday.
Connect with Ian Paul ( @ianpaul ) and Today@PCWorld on Twitter for the latest tech news and analysis.