LG Mobile this week added its wireless charger, called the WCP-700 Wireless Charging Pad, to the growing list of convenient charging devices for mobile phones.
Of course, wireless charging pads are nothing new. Back in mid-2009, we all oohed and aahhhed over the Palm Pre and its Touchstone charging station. Powermat and Duracell also came out with their versions that year.
The subject also was much discussed at this year's Consumer Electronics Show, as shown here:
In Video: Wireless Power Charges Ahead
LG's Version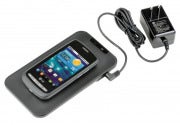 LG's Wireless Charging Pad (a.k.a. the WCP-700), has a couple of nice bells and whistles, such as visual, auditory, and haptic feedback when you're positioning your phone on the pad, so you know it's in the right place (inductive charging pads require that you be very precise with the placement of the device). It also offers LED lights that indicate the status of the charge, so you don't have to repeatedly turn the screen on to see if at you're at full power yet.
The LG pad is sleek and low profile, measuring 6.29 inches by 3.54 inches by 0.39 inches. Still no word on whether this will be available for existing phones, or only for yet-to-be released devices, but wireless charging solutions are projected to experience sizable growth this year, so expect to see more products like this in the months to come. At press time, it wasn't immediately apparent which LG devices would be compatible with this kit, but the company said it is set to launch in early April for $69.99.
One thing I'd call into question is that, according to the press release, LG created the charging pad to alleviate "the need for external connectors that limit the phone's usability." Okay, but is a phone really that much more usable when it's lying flat on its back on a pad and you can't rotate it or really move it at all?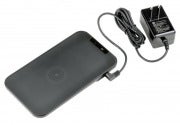 Minor gripes aside, wireless charging, unless proved to be a safety concern, is almost certainly the future. LG's solution involves specialized battery covers with embedded, inductive coils that charge the battery beneath it, so nothing needs to be attached to the outside of the phone, which is nice.
That said, there are some emerging wireless charging technologies (such as radio charging and magnetic resonance charging) that claim to have greater range and greater efficiency. They're not commercially available yet, but look for them to start making their way into the mainstream in the next year or so. When they do, charging pads such as these will likely look pretty primitive and inconvenient. Until then, the fewer wires for me to trip over, the better.