Microsoft may have seen fit to boast about the 2.35 million downloads its new Internet Explorer 9 browser received in its first 24 hours, but Mozilla's Firefox 4 has since essentially blown such figures out of the water.
In fact, not only did Firefox 4 claim a million downloads in its first three hours and almost 7 million in its first day–surpassing by far Internet Explorer 9–but by Wednesday, the day after its official release, it had already claimed almost 2 percent of the worldwide Internet browser market, according to research firm StatCounter.
"Firefox 4 has really hit the ground running and has eclipsed the launch of IE 9," said Aodhan Cullen, StatCounter's CEO.
By Tuesday, IE 9 had taken just 0.87 percent of the worldwide market; as of Wednesday, even the newly released Opera 11 browser also had a steady lead over IE9, StatCounter reported.
StatCounter Global Stats are based on aggregate data collected on a sample of more than 15 billion page views per month–including 4 billion from the United States–from its network of more than three million websites.
IE on the Decline
And when all versions of each browser are taken into account, Internet Explorer still leads the global market with 45 percent, followed by Firefox with 30 percent and Chrome with 17 percent. In the United States, the sum total of all versions of IE lead the market with 48 percent, followed by Firefox with 26 percent and Chrome with 14 percent.
But Microsoft's Internet Explorer is declining markedly. On a monthly basis, StatCounter figures show a steady drop in IE's global market share from 55 percent in February last year to 45 percent this year. Google's Chrome, meanwhile, has risen steadily from 7 percent worldwide to 17 percent over the same time period. The official Firefox download counter is available on Mozilla's site.
Firefox recently overtook Internet Explorer as the No. 1 browser in Europe as well. The software set a record for the most downloads for a single piece of software with 8,002,530 for Firefox 3.0 between June 17 and 18, 2008. Even that years-old Firefox 3.0 version, interestingly, currently maintains a lead over Microsoft's Internet Explorer 9.
5 Reasons
So, why is Firefox doing so well? And why is Internet Explorer doing so badly, by comparison? There are several reasons.
1. It's Inclusive, Not Exclusive
Microsoft's reasons for excluding the millions of Windows XP users from its latest Internet Explorer release must have been very compelling indeed. They focused, I suspect, on a desire to force those users to upgrade to Windows 7 — to the tune of considerable upgrade fees for Redmond. This, as I've noted before, is one of the joys of life on the Microsoft Treadmill.
I can't imagine, though, that time will prove that decision to have been a good one. For a vendor to exclude such a huge portion of its own installed base just doesn't look good, and that's not to mention all the many Linux and Mac users out there.
Hello? Microsoft: It's no longer a single-platform world out there, no matter how much you wish it were. Mozilla: Thank you for seeing things the way they really are.
2. It's Faster
If you've been using a previous version of Firefox, the fact that Firefox 4's speed is between three and six times faster should be pretty impressive. Thanks in part to the browser's new JägerMonkey JavaScript engine, in fact, it delivers huge performance enhancements, including faster startup times, graphics rendering and page loads. Firefox 4 also outdid Chrome 10, Opera 11.1 and Internet Explorer 9 in the Kraken benchmark, as I recently pointed out.
3. It's a Leader on Privacy
It's no accident that Microsoft just recently emulated Firefox 4's "Do Not Track" mechanism, despite the fact that it had already implemented a like-minded feature of its own. Quietly added to Microsoft's own "Tracking Protection" tool, the addition of the new, Firefox-like "Do Not Track User Preference" feature quickly drew accolades from myriad privacy experts.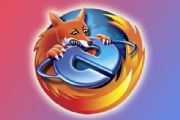 4. It's Developed by Users
Who's more likely to develop a product users want–the users themselves, or a relatively limited team of paid developers? Yes, that's right–users tend to have a better idea of what's desirable. And look: Firefox was developed in large part by its users–between 30 percent of 40 percent of its code comes from the community–whereas IE 9 is just Microsoft's best approximation of what users want.
That, no doubt, is why Firefox offers such an excellent user experience, complete with a "tabs on top" layout, the "App Tabs" feature, Panorama and Sync.
5. It's More Secure
Hand-in-hand with Firefox's community aspect comes the fact that it's more secure–a feature that tends to be associated with open source software in general. Even Microsoft's much-touted anti-tracking technology has already begun to come under fire.
Because Internet Explorer's code is closed, all the many bugs and vulnerabilities that crop up are fixed only at Microsoft's leisure–which can be laggardly indeed. With Firefox, on the other hand, the code is being scrutinized and improved all the time.
So, would you rather a speedy, privacy-protecting, secure and user-developed browser that you can actually run on your current operating system, or do you want to jump through Microsoft's hoops and pay the price in more ways than one? To be honest, now that Firefox 4 is out, I can't really see that there's much of a contest left.
Follow Katherine Noyes on Twitter: @Noyesk .