This Spring's CTIA delivered something totally new to the US mobile market: 3D phones. Sprint introduced the HTC EVO 3D while AT&T launched the LG Thrill, a US-branded version of the international LG Optimus 3D. Both are incredibly powerful phones with glasses-free 3D displays. But I have to wonder: Do we really need to see 3D content on a screen that small or is 3D going to be a gamechanger in the smartphone world?
The Specs Explained
Smartphones with 3D displays are nothing new; Docomo's Sharp LYNX 3D has been out for a few months now. The LYNX 3D has the same resolution as the Thrill, at 800-by-480 pixels, but the 3.8-inch display is smaller than both of the US phones. The Thrill has a 4.3-inch display, while the EVO 3D has the best display of the bunch with a 4.3-inch QHD display. QHD, which stands for Quarter High Definition, means the display has a resolution of 960×540 pixels arranged in a 16:9 aspect ratio. This resolution is one quarter of a full HD 1080p frame (hence the name) and is three quarters of a 720p frame.
This difference in resolution is apparent. The Lynx 3D display looked grainy and flat—not much obvious 3D effect happening. The LG Thrill looked slightly better, but the 3D effect was still underwhelming. The HTC EVO 3D looked much sharper and the 3D effect was more apparent.
How it Works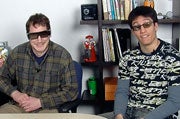 So how does this glasses-free 3D technology work? These phones have parallax barriers, which is a layer placed in front of the display to allow it to show a stereoscopic image (meaning a 3D image) without the need for those dorky 3D glasses (see image at right). Basically, the layer consists of a series of tiny slits that allow each eye to see a different set of pixels.
The downside to this technology, however, is that in order to see the 3D effect, you must be positioned directly in front of the screen. If you're viewing at a slight angle, the image will look like a blurry mess. This can be difficult with a small screen. With an image or a short video clip, it isn't too hard to hold the phone directly in front of your eyes for a few seconds. With a longer 3D video, however, I can see it being a real pain. Of course, I haven't spent enough time with any of these phones to attempt to watch a long 3D movie on them, but I can't see it being very comfortable. You'd have to set it up on a dock and then make sure you're angled correctly throughout the entire movie—no lying on the couch.
3D Content Creation
The coolest feature of the Thrill and the EVO 3D is the ability to create 3D images and videos (the LYNX 3D can capture only 3D still images). Both sport dual-lens 5-megapixel cameras (see image of EVO 3D at left) with dual-LED flashes. In my quick hands-on tests, I was pretty satisfied with the quality of the 3D images created by both devices. I'm eager to test these cameras more thoroughly when I get my review units.
3D images and videos are great for viewing on your own 3D phone, but sharing the magic with other people might be a problem. How many people do you know who own a 3D TV? (Many of the 3D cameras out there require you to hook them up to a 3D TV to see your videos or stills.) And by the time the Thrill and EVO 3D come to market, will there be more 3D devices on their way? Time will tell.
3D Services Online
HTC and Sprint didn't announce a partnership with YouTube 3D (for hosting of 3D video online) as LG did with the announcement of the Optimus 3D. When asked about a partnership, AT&T said they were still working things out with LG to allow AT&T customers to upload 3D video to YouTube 3D.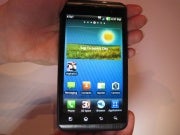 HTC was a bit more open about its plans. Its product manager said that services supporting 3D content will probably not be limited to just one piece of hardware. That makes sense because if YouTube isn't just limited to a single phone with video capture, why would YouTube 3D be limited to just one phone with 3D video capture? And since YouTube is a Google product, it might be safe to assume that all Android 3D phones will support YouTube 3D. It will be interesting to see what happens in this area.
I don't think 3D is going to be a standard for high-end smartphones like dual-core processors or large touch screens; it feels more like a flashy add-on than a necessary feature. These phones will be successful, though, because the 3D aspect isn't the only appealing feature about them. Both the EVO 3D and the Thrill support 4G networks, are powered by dual-core processors and run on the robust Android platform. On top of that, they're both incredibly good looking, thin and well-designed. I'm looking forward to seeing the support for 3D content grow, but I think it's going to be a slow process. Either way, I look forward to seeing what other mobile 3D products are coming down the pipeline.