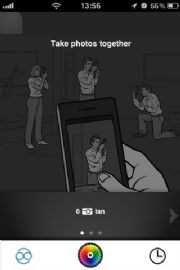 Early adopters are going crazy over Color, a new location-based photo- and video-sharing social network that launched late Wednesday. The new service uses mobile apps for iPhone and Android devices that let you snap a photo in a particular location and automatically share your images with others. But the catch is you don't get to decide who sees your photos. Color does, based on your location, the content of your photos and the people you interact with on the network.
Color is sort of like Twitter in the sense that it is designed for sharing content publicly and has almost no privacy protections. As Color says in its privacy policy, "sharing content publicly with others from different locations is what this app is about. If you find this objectionable, please consider not using our app or site."
If you're a serial over-sharer then dive right in, this is the app for you. For the more cautious types, here's a quick breakdown of Color.
Elastic Networks
The beauty of Color is there's virtually no set-up involved. All you have to do is fire up the app, enter your name, take a picture of yourself and you're ready to go. As you take photos with Color, the service starts to associate you with other users based on your activity. If you're at a concert, Color will create a group album using photos taken with the service's mobile apps that are within about 150 feet of your location. Color can also glean hints from images to figure out who is at the concert and who is simply nearby. The service does this by taking into account the content of your pictures, the orientation of your device in relation to other devices using the service and similar signals.
So in your Color concert album you might see photos by a stranger named Steve and his buddies. But if you never interact with Steve or take photos near him again, Steve's photos will disappear from your network. Meanwhile, if you went to the concert with your friend Pamela and you comment on each other's photos and then take a bunch of photos from a shared location in the future, Pamela becomes more important to you on the service. Color calls this your "elastic network" since your photo-sharing "friends" will change based on your activity and the activity of others.
During the few hours I've had the app, I've seen a few people I didn't know added to my network, so make sure the photos you share on Color are something you would want strangers to see. For more information on what's appropriate on Color see the company's terms of service under the heading "Do The Right Thing."
Color Your Contacts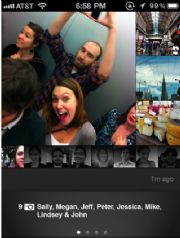 Color says in its privacy policy that the company may also ask you to authorize it to store your mobile device number and collect contact information from your device's address book. Color says it wants to store your mobile number so that should you lose your phone, Color can re-associate your previous content and activity with your new handset.
If you authorize it to access your contacts, Color can highlight content from people you know who are also Color users. While this may be a great idea, if you have a lot of work contacts on your device you may want to think twice about authorizing this feature.
Color has not yet asked me to share this information with the service. So phone number and address book sharing may be a feature restricted to certain regions for the moment or part of a future release. Color also says it is working on some optional SMS-related features that will require you to share this information.
Sharing photos publicly can be fun, but keep in mind that anything posted on Color is 100 percent public. If you'd like to share photos with a smaller group of people then consider apps such as Instagram that lets you authorize who can see your photos, although Instagram is public by default. Another option is Path (iPhone only), which is geared toward sharing photos with family members and close friends by restricting the number of people you can interact with on the network to 50.
Connect with Ian Paul ( @ianpaul ) and Today@PCWorld on Twitter for the latest tech news and analysis.