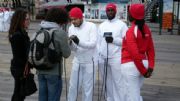 Four days before its official release this Sunday, March 27, the Nintendo 3DS hit the streets of Manhattan and fell into the hands of dozens of happy users–none of whom seemed to mind that the units were tethered to live Nintendo representatives.
On Thursday a group of young Nintendo product demonstrators clad in snappy white athletic gear hit the Manhattan waterfront at the South Street Seaport to show off the 3DS, which boasts two screens, one of which can display 3D images without the need for 3D glasses. In addition to backward compatibility with older Nintendo DS and DSi games, the unit also has dual lenses that can snap 3D photos, and has a built-in Wi-Fi adapter.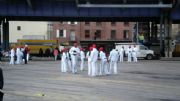 The unit doesn't go on sale until Sunday, but tourists, Wall Street-area workers, and blundering bloggers were able to get their hands on the units–tethered to Nintendo demonstrators by long cords–for a few minutes each on Thursday. From the Seaport the 3DS team headed uptown to Union Square where they planned to show off the units at the Union Square Best Buy store, which stays open 24 hours on weekdays.
Though the bright sunlight washed out the screen at times, the display on the 3DS was still usably bright in the shade. While the unit has a little bit more heft than older DS units, it wasn't enough to affect the gaming experience.
One of the Nintendo reps pointed out that photos taken with the 3D camera can be imported into some of the new 3DS games as backgrounds or used in augmented reality games. The rep also noted that an immersive 3DS display has been set up in Vanderbilt Hall, the restored former main waiting room at New York's Grand Central Station, so that potential 3DS buyers can put the unit through its paces before they're made available this weekend.
Launch parties are scheduled for Saturday night at 10 Best Buy stores across the nation, including a midnight party at the Union Square Best Buy, and a 10 p.m. event at the 1717 Harrison St. store in San Francisco.
The Nintendo 3DS will sell for $250 at Best Buy, Target, and a number of other electronics stores when it finally launches on Sunday.
Interact with Game On: Twitter – Facebook – Get in touch