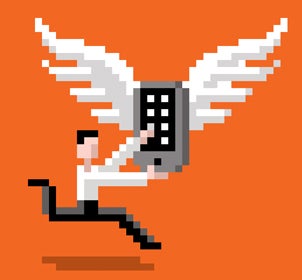 Secure phones: Smartphones are notoriously vulnerable to data-security and privacy breaches. Lookout Mobile Security locks down your Android, BlackBerry, or Windows Mobile phone to keep malware and other threats from invading.
Game addict: Kongregate Arcade supplies you with more than 300 addictive Android games, as well as a gaming community to share them with.
Free books: The mobile version of Google Book Search (at books.google.com/m) lets you read every book in the Google Books library without downloading anything or creating a special account. Just surf and read.
Android sync: DoubleTwist Player makes loading music and videos onto your Android phone easy. And it manages the media on your device in an interface whose simplicity rivals iTunes'. DoubleTwist even lets you sync your playlists via USB cable.
Super shopper: For Android, BlackBerry, iOS, or Windows Mobile, OurGroceries is the best supermarket companion we've found. It syncs lists between multiple devices, works across platforms, and lets you update your list from any browser.
Tech news: We know you love keeping up with the latest tech news. And we love the TechDygest iPhone app for its streamlined presentation of hot tech stories from all over the Web (including PCWorld.com).
Magic sharing: Want to share photos, recommend a song, or suggest an app to a friend? Bump is a cool freebie that uses geolocation and your phone's accelerometer to let you fist-bump two phones together to transfer data between them.
RSS reader: For RSS news feeds and podcasts in Android, Google Reader is a top option. It now includes widgets, so you can embed your feeds on the desktop.
Coverage comparisons: Nationwide coverage maps don't reveal which mobile carrier works best in your hometown. For that data, visit OpenSignalMaps, which uses crowd-sourced reports to compare local coverage from major carriers.
Check our alphabetical list of all of the free downloads mentioned in this package of articles.
Review our list sorted by category of all of the free downloads in this package.