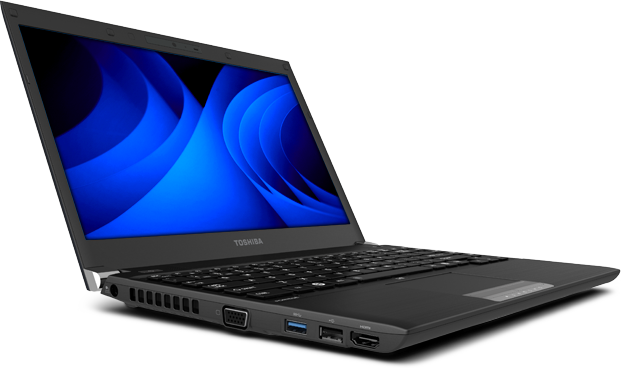 Toshiba's lightest ultraportable laptop, the Portege R830, is now available for pre-order from Toshiba with prices starting at a reasonable $890. The much anticipated Portege R830 offers a more affordable alternative to the ultra-thin MacBook Air and Samsung Series 9 laptops.
The Portege R830 has a similar form factor as the MacBook Air and Samsung Series 9, with a 13.3″ display and a weight of a little over 3 pounds. While it lacks the head-turning design styling of those two ultraportables, the Portege R830 costs about $700 less.
True, the lower price ($929.99 for the Intel Core i5 version and $899 for the i3) means a couple of trade-offs compared to the competition, including:
* Thickness: 1.05 inches versus the Series 9's 0.64 inches and the MacBook Air's 0.68 inches
* Weight: 3.2lbs. versus the Samsung 9's 2.89 lbs. and the MacBook Air's 2.9 lbs.
* Hard drive type: regular 5400rpm SATA HDD versus Samsung's SSD and the MacBook Air's flash storage
* Display resolution: 1366×768, like the Series 9, versus the MacBook Air's 1440×900 native resolution
* Case design: while the Portege R830's magnesium casing is durable, it's not the unibody aluminum construction of the MacBook Air or the aircraft-grade Duralumin material of the Series

Besides lower pricing, the Portege R830 does have some advantages or features not found in the other two ultraportable laptops, such as a built-in DVD drive and a longer battery life rating (up to 9 hours versus the Series 9's 6.5 hours and the MacBook Air's 7 hours).
An update to the popular and highly rated Portege R700 series of thin-and-light laptops, the Portege R830 also features Intel's second-gen processors, runs Windows 7 Home Premium (64-bit), and comes with 4GB DDR3 memory (expandable to 8GB) and 640GB hard drive space.
Portege R830 models are available now on Toshiba's Website, and there's a Best Buy exclusive model as well.