It's the day after the big news that Research in Motion will, albeit indirectly, support Android 2.3 apps on its BlackBerry PlayBook — and questions swirl over what this means for users, for RIM, for developers, and for the BlackBerry PlayBook itself.
Here's our take on what it all means, and how this news may impact the tablet landscape.
1. Will all Android apps work on BlackBerry PlayBook Tablet OS?
Not at this time. For starters, RIM has specified that only Android 2.3 apps will be supported. That notation explicitly rules out Android 3.0 Honeycomb apps — which is where all the interesting Android app development is under way for tablets. It also implicitly includes apps for earlier Android versions; after all, we hardly have any devices, let alone apps, in the wild expressly are designed for Android 2.3 Gingerbread.
The other caveat to this deal is that it will require developers to manually port their apps to BlackBerry App World; it's not as if a user will be able to hop over to the Android Market (or, for that matter, third-party markets like GetJar) and directly download whatever Android app they wish.
2. Will Android apps work across all BlackBerry phones?
Nope. This announcement solely refers to Android apps on the QNX-based BlackBerry PlayBook Tablet OS. That means BlackBerry handsets are locked into the same state of affairs. Currently, 25,000 apps are in the BlackBerry App World; not all apps work with all phones, though.
That said, in an earnings call with investors on Thursday =- the same call in which RIM dropped the news about porting Android apps to PlayBook — the company's co-CEO Jim Balsillie confirmed that QNX-based BlackBerry "superphones" are expected in 2012. Interestingly, the company also noted that the U.S. smartphone market is very competitive, an observ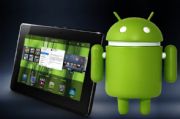 ation that feels obvious, and makes it curious that we will have to wait until sometime next year to get a QNX-based OS on a BlackBerry handset.
Even if QNX becomes established on BlackBerry phones, we still don't know whether Android apps will be able to be run in the same controlled (or, "sandboxed" as RIM has put it) manner on phone handsets. One of the wild cards is scaling apps to match the BlackBerry screen sizes — a hurdle that may be too great to cross. Or it may prove to be no hurdle at all, since one could presume that a so-called "superphone" — a term used during the earnings call but not defined — will have a large screen that would match the screens found on most Android devices.
3. Is this good for developers?
Yes, absolutely. One of the big questions about a fragmented and competitive mobile operating system universe is that developers must choose where to put their resources. By having an easy (according to RIM, at least) way for developers to move their content to BlackBerry PlayBook Tablet OS, the door opens wide for Android developers to migrate their content to a new audience and new revenue stream. Developers must wrap the app in a BlackBerry container, and add some identifying code; then, they can upload the app to BlackBerry App World at no charge.
Of course, one of the wild cards here is that these apps will run in a sandboxed, virtual machine environment on the PlayBook. This means we don't know yet how, exactly, the app will behave on the PlayBook when it comes to such mainstay features as multitasking, location-based services, and notifications.
4. Is this a good move for RIM?
Another resounding yes here. It's a very shrewd and calculated move, one that adds instant credibility to the PlayBook tablet just weeks ahead of its launch. RIM has, for the past few months, done a good job talking up how PlayBook supports HTML5, Adobe AIR, and Adobe Flash programming environments, but the company hasn't done as good a job showing exactly how those programming formats translate into a competitive and compelling user experience vis a vis what consumers can get today from Google's Android and Apple's iOS. It's not that I doubt those environments' capabilities; but the dearth of actual programs written in them today leaves the question on the table.
By supporting Android apps, even in this circuitous way, RIM's Basillie noted how this move will let the PlayBook Tablet compete in the marketplace for those looking at the sheer numbers of apps alone. During the earnings call, Basillie was quick to emphasize that performance is going to be a big differentiator, too — and that isn't an experience you get through a virtual machine interface within which you can run other apps. But with the addition of Android to PlayBook's arsenal, he noted, "There's no compromise here." Well, I wouldn't say "no" compromise, but it sure does broaden a consumer's options.
5. What does this mean for the prospects of the BlackBerry PlayBook tablet?
In the tablet game, credibility is everything, and the BlackBerry PlayBook tablet's stock just soared with this chess move. But a ceiling remains.
The PlayBook launches on April 19 with starting prices of $499 for a 16GB Wi-Fi model. But until now, a big question remained about what, exactly, would be the app availability for the PlayBook at launch. It's a valid question, especially in light of how slow the BlackBerry Tablet OS native software developer's kit (called the NDK by RIM) has been in getting out of alpha and, at the least, into beta. That switch is imminent, according to RIM, and once available, it will enable C/C++ application development and support for game programming engines.
The announcement means that RIM will be able to claim more app support than it already has. But one has to wonder how quickly RIM will get Android developers on board to port and upload their apps. Realistically, all of this so-called Android app support remains theoretical — unless the developers jump on board and upload their apps to BlackBerry App World.
Don't expect all 170,000-plus apps in the Google Android Market to rush over to BlackBerry's App World anytime soon, let alone in time for the April 19 launch. It will be interesting to see exactly how many apps the BlackBerry App World swells to when the PlayBook launches in April.