At a Glance
Expert's Rating
Pros
Good value for its class
Speedy on games, even when eye candy is added
Cons
Heavy and a little clunky
Glossy screen is slightly distracting
Our Verdict
Asus's G73SW high-end gaming laptop offers good game performance without breaking the bank.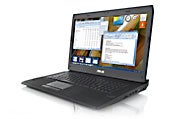 At first glance the Asus G73SW desktop replacement laptop seems to get its inspiration from the F-117 Nighthawk stealth bomber. It's all angles, with a matte-black finish that looks both understated and killer at the same time.
Under the hood lurks a quad-core Intel Core i7 2630QM processor that has a base clock frequency of 2GHz but can push to 2.93GHz in Turbo Boost mode. Toss in 8GB of fast DDR3-1333 RAM plus an Nvidia GeForce GTX 460M discrete GPU with a dedicated 1.5GB frame buffer, and you have the guts of a dandy gaming system. The unit also benefits from a 17.3-inch, LED-backlit LCD offering 1920-by-1080-pixel HD resolution.
All that CPU and GPU horsepower won't be too much of a burden on already tight budgets. Our model, with a Blu-ray drive and a pair of Seagate 7200-rpm, 500GB hard drives, costs around $1650 (as of March 25, 2011). On the other hand, while your wallet may not feel the strain, your back and shoulders might if you lug this laptop around regularly. Without the 150W power brick, the G73SW weighs 8 pounds, 11 ounces–not terrible for a laptop in this class. That 150W power supply, however, adds a full 2 pounds to the load. Sure, the battery life is decent for this laptop category at nearly 3.5 hours; but if you plan on extended gaming sessions, you'll want to keep the power brick handy.
Overall gaming performance was a pleasant surprise. I was worried that the GTX 460M might be a little underpowered. Instead, the system chewed through our most demanding Far Cry 2 test, reaching over 56 frames per second. At the "high" setting, F1 2010 ran at 65 fps. Just Cause 2 took the system down a notch at ultrahigh settings, as the laptop eked out only 16 fps, but that game has a large number of settings that you can gradually dial down without causing a substantial reduction in visual quality. The G73SW also performed well on standard desktop applications, powering through our WorldBench 6 benchmark with a superb score of 128.
We found a few niggling shortcomings, however. The G73SW ships with a Blu-ray player, but the Roxio CinePlayer BD application's image quality seemed a little on the soft side; the program would occasionally crash on exit, too. Audio quality is good, provided you ensure that the included Creative THX TruStudio processing software is enabled. If you leave it disabled, the overall audio volume and sound quality are pretty weak. With TruStudio on, the sound quality and volume levels are much more pleasing.
The G73SW ships with plenty of ports, including four USB (two on each side; one of the right side ports is USB 3.0 capable). You'll also find HDMI and VGA video outputs, plus an SD Card slot. The Blu-ray disc-loading tray pops out on the left side, but two USB ports straddle the optical-drive bay. Ethernet and audio jacks also live on the left side.
The Asus design team did a great job of building in good ventilation to keep the unit cooled without generating disturbingly high noise levels. Yes, you can hear the cooling fans spin up under a heavy game load, but the effect is not as objectionable as it is on some other gaming laptops I've lived with. And if you're wearing a headset, you may not hear the fans at all.
The keyboard offers good tactile feedback, but the depth of key presses seems shallow compared with the feel of other gaming keyboards I've used. The spacing between keys is very good, and my overall impression is positive.
The storage configuration on our test unit seemed a little bizarre, however. The G73SW-A1 unit we tested arrived with a pair of Seagate 7200-rpm, 500GB hard drives. That is all well and good, but each drive shipped with two separate partitions, which results in four total partitions you need to manage. In a dual-drive system, I'd much prefer either two drives each with one big partition, or even a RAID 1 configuration for a little added data security.
Overall, the Asus G73SW offers good performance at a reasonable price. It isn't exactly svelte, but it isn't too much of a problem to carry around. Given the overall performance, that's not too big a burden at all.