At a Glance
Expert's Rating
Pros
Lightweight, with great battery endurance and options
Excellent performance and ergonomics
Cons
Comes overloaded with background apps
Our Verdict
Fast and light, with great input ergonomics and battery life, this powerhouse ultraportable is best-of-breed, though its old-school looks may not appeal to everyone.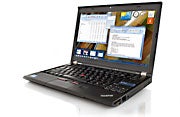 The Lenovo ThinkPad X220 ultraportable laptop, which replaces the X201, is sure to be a hit with ThinkPad fans–as well as most everyone else. It's fast and light, it has a great 12.5-inch display, and it continues the company's tradition of superb input ergonomics, offering an innovative buttonless touchpad and a long-stroke keyboard. It also provides excellent battery life that you can stretch to a whopping 23 hours with a bottom-mounted battery slice. The downside? Not much, really. The laptop's boxy, businesslike appearance and somewhat cluttered keyboard deck might lack the sex appeal some users are looking for.
Exact prices for the various ThinkPad X220 configurations are unavailable at this time: The starting price should be $979, with additional costs for better CPUs, solid-state drives instead of standard hard drives, and more RAM. CPUs range from an Intel Core i3 to a Core i7, the unit accepts up to 8GB of system memory, and storage options start with a 160GB hard drive and end with a 160GB SSD. The aforementioned 12.5-inch, 1366-by-768-pixel display is available in two flavors: one with an IPS panel for wider viewing angles, and one without.
Our $1299 (as of March 25, 2011) test model–with its 2.5GHz Core i5-2520M processor, 4GB of DDR3 system memory, and 7200-rpm, 320GB hard drive–turned in an outstanding WorldBench 6 score of 122. Not only that, but its integrated Intel HD Graphics 3000 GPU actually managed playable frame rates in some of our lighter gaming tests, reaching 41 frames per second at 1024 by 768 in Unreal Tournament 3 with medium detail, and 32.5 fps with high detail. And 1080p movies, even the high-bit-rate variety, play as smoothly as you could wish. Performance for any task outside of enthusiast gaming and high-end 3D workstation applications is of no concern with the X220.
Some of the keys are a tad odd on the ThinkPad X220, such as the extralarge Esc and Delete keys above the main alphabetical keys. However, unlike other vendors' keyboard quirks, they help, not hinder your typing. As usual for Lenovo, the long-throw feel of the keyboard is nothing short of excellent. The touchpad is a buttonless design–you press down on the left or right front edge to click, which makes it easier to use than standard buttons when you're using the thumb and forefinger of one hand. Two normal buttons sit above the touchpad, and Lenovo's TrackPoint eraserhead pointing device is also in attendance. Mute buttons for the dual microphones and the 720p Webcam join the volume rocker and ThinkVantage (toolbox) buttons at the top of the keyboard deck.
The X220's battery life is outstanding, and you can enhance it with options. Our test machine, with its six-cell battery, ran for a cool 7 hours, 15 minutes. You may also opt for three-cell and nine-cell main batteries, for less weight or longer run times respectively, and add a bottom-mounted $179 battery slice. The slide adds 0.4 inch of thickness but nearly doubles battery life to over 14.5 hours. For world travelers, the extra 1.6 pounds of weight and bulk will be an acceptable trade-off.
The ports and connectivity on the X220 are top-notch. The system has three USB ports, one of which is powered (for charging cell phones and the like) even when the laptop isn't turned on. Optionally, with the i7 CPU, one port can be USB 3.0. You'll also find an ExpressCard slot, an SD Card slot, a Wi-Fi switch, a VGA port, and a gigabit ethernet port. A dock is available with a multiformat burner, Bluetooth is on board, and the Wi-Fi is dual-band 802.11n (2.4GHz and 5GHz). Our test laptop arrived with IBM's biometric finger-swipe sensor to facilitate security.
If there's anything you should be wary of with the X220, it's the number of "value-added" applications and unnecessary background processes. The Windows 7 Professional operating system has just about every software feature you need for a laptop, yet on our machine a quick glance at the Windows Task Manager revealed nearly 90 processes running and almost 30 percent memory usage–without one user application running. One or two of the background apps are worthwhile, such as the Bluetooth manager or the tool that shuts down the hard drive in case of a fall, but additional battery meters and Wi-Fi handlers are generally useless. A trial version of Norton Internet Security and Microsoft Office 2010 Starter are bundled.
ThinkPad users won't find anything mind-blowingly different about this latest addition to the X2xx series, but the improvements are noticeable and all enhance the usability of the system. If you're not looking for a supersexy laptop, or if you're trying to get away on the cheap, the Lenovo ThinkPad X220 is the best thing going in an ultraportable.