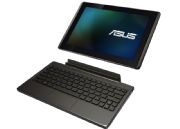 Asus is finally delivering on a promise to launch its Eee Pad Transformer Convertible Android tablet/laptop. The dockable tablet went on sale in Taiwan Friday costing between $500 and $700. No word yet when the Transformer becomes available here in the U.S.. Ausus originally said April 2011. I'm not holding my breath.
Introduced originally at CES this year, the ASUS Eee Pad Transformer features a 10.1″ high-definition (1280×800) touchscreen display, which can be used alone or attached to a full QWERTY keyboard that makes it act just like an Eee PC netbook.
One of the common criticisms of tablets is that productivity is hampered by on-screen keyboards; for anything but light typing, a physical keyboard is much preferable. The Eee Pad Transformer solves this issue by offering the full keyboard attachment, which also almost doubles the battery life of the slim tablet to up to 16 hours.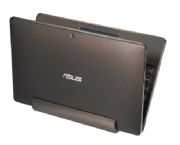 The Eee Pad Transformer runs the tablet-friendly Android 3.0 (Honeycomb) and packs NVIDIA's Tegra 2 chipset (dual-core CPU plus NVIDIA GeForce GPU), with full support for Adobe Flash and full 1080p HD video playback. It's a thin 0.51 inches and weighs a mere 1.49 pounds. Other specs include two USB ports, both front- and rear-facing cameras, an SD card reader, and storage of either 16GB or 32GB (plus unlimited ASUS WebStorage).
Available for pre-order in Taiwan Friday, the Transformer is scheduled to go onsale in the U.K. on March 30 and then be available in the U.S. ASUS's Campus Life also reported that the tablet is priced on par with standard 10-inch ASUS netbooks, at $399.
Follow Melanie Pinola (@aboutmobiletech) and Today@PCWorld on Twitter