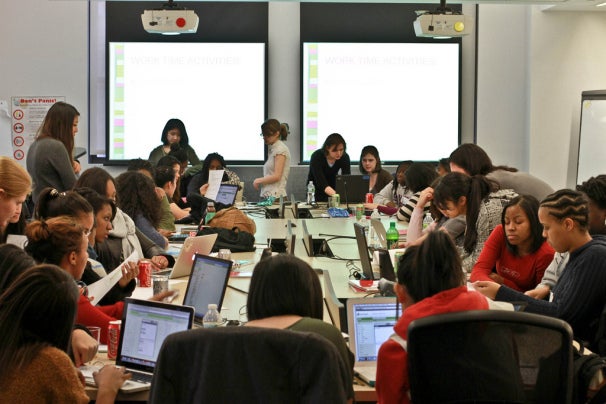 In Google's New York offices, a group of high school girls are learning to develop Android apps and start their own businesses thanks to the first East Coast Technovation Challenge. The 12-week program pairs high school girls from New York public schools with volunteer mentors to introduce them to high-tech entrepreneurship. Participants learn the basics of programming, design a user interface, develop a prototype app and business model, and cap it off with a presentation to a panel of judges and venture capitalists.The winning team's concept will be developed by pros with input from the girls and released in the Android Marketplace. Through this process, the mentors are teaching the students to become creators rather than just consumers of technology.
Though most of the girls have no prior experience with code, Google's App Inventor tool allows them to make real programs using a simple visual interface while learning the basic concepts of programming. Spanning from one overachieving 8th grader up to high school seniors, and with notable ethnic diversity among them compared to the often-homogeneous tech industry, 95% of them are participating through need-based scholarships. Each group of five girls is paired with at least two mentors to closely guide them through the process.
The Techovation Challenge was started in 2010 by Iridescent Learning, a Los Angeles-based company founded by aerospace engineer Tara Chklovski with programs in Southern California and the Bay Area. This is their pilot session in New York, which was able to start partially because of a grant from the Office of Naval Research. New York program director Erika Allison explained, "they see a lack of scientists and engineers as a national security risk." The only request was that mentors consider app concepts dealing with marine ecology.
I stopped by a weekly session at Google's New York offices to take a closer look at what the girls were working on, and was excited that I had arrived on the day the groups were to pick their final project concepts. I had read that the Bay Area's 2010 session had produced a broad range of entries, from the surprisingly mature (an app to track mileage for corporate reimbursements) to the delightfully silly (a digital version of the grade school fortune-telling game MASH), and I was curious to see what this class had imagined.
As the girls listened to a lecture on conditionals, the "if the user does A, then B happens" decisions in design, Allison took me through some of the groups' poster-sized paper prototypes. There was an SAT prep 2D side scroller featuring a character named Mr. Moustache–Allison mentioned that the girls behind this one had put on scotch tape facial hair while working on it–where the player faces perils like hissing vector snakes defeated by solving a math problem. There was a cake-decorating interface, lushly illustrated in pink marker, that would allow a customer to select and order from a palette of flavors and frosting designs.
In later talking to a few of the groups, I was introduced to a few more of their ideas. Team Computer Chicks said they had decided on UpdateMe, an RSS feed app. Electric Hearts was discussing an "immigrant app" to help acclimate new U.S. arrivals to American language, food, and culture.The Droidettes had conceived of an aggregator for fashion designer's seasonal look books to allow the user to browse trends. Finally, one of the girls in Daredevils passionately explained Ecobud, their recycling app, showing off their paper prototype of a program designed to help answer "what do I do with my trash?"
Even the shier girls spoke confidently about their projects and process. If last year's program is any indication, some of these girls will go on to pursue development in college; Crystal Yan, an alumna from last year, even helped develop the New York program.
Katherine Ramos is a Brooklyn-based freelance writer and illustrator.
Like this? You might also enjoy…
Get your GeekTech on: Twitter – Facebook – RSS | Tip us off