Sure, Nintendo's newest portable gaming system, the 3DS, is an interesting piece of hardware that takes big risks and in many aspects delivers. The question is: do any software titles available on launch day justify the $40 price tag or even do the system justice?
The 3DS experienced a reportedly hitch-free U.S. launch on Sunday. Around 18 games debuted with the system and unfortunately for everyone Legend of Zelda, Star Fox, and other Nintendo flagship titles are missing from the lineup.
That isn't to say that the launch games are no good, I'm just wondering if more systems would be flying off the shelves if Ocarina of Time 3D had shown its remastered face this week.
Most of the #3DS talk on Twitter is focusing around friend codes, hardware, and bundled augmented reality applications, not software.
Here are a few highlight tweets from Sunday morning:
FirecrestXB: …I've gone from blasting Bob Barker to fighting off hordes of Judge Judys. #3DS
ChampAshFlash: Where's a Mario, Zelda, Wario even a Luigi or Yoshi launch title? #nintendo #3DS. I think i'll wait!
Elixer88: @Nintendo3DS_en @NintendoAmerica Enjoying my new#3DS! Great job guys; can't wait for some nice games to come out, though. :3c
TonKSNK: I really want to pop this thing open to try out Ridge Racer, but I'm not paying $300 for 3D Ridge Racer… Or am I? #3DS
vicjohusmc86: There is so much to do on the #3Ds even if you don't have any games to play. The #ARcards are fun to play with and the 3d camera is awesome.
ChrisSmigs: Got my #3DS! lived up to the hype!!
To be fair, most people tweeting about their 3DS experience on Sunday probably didn't have time to get into great detail about their Nintendog, Ghost Recon, or Super Monkey Ball experience. Early adopters were probably getting used to their new systems before getting into games.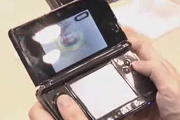 One user apparently noticed people picking up Pokemon games with their 3DS purchase, which could hint that some people are looking for a more definitive Nintendo experience.
mageuzi: Funny how many people are picking up Pokémon with their #3DS, considering it arguably plays worse on the #3DS.
It's safe to say that the 3DS is no sales slouch but things will surely pick up in the coming months when more titles become available.
One user on Twitter summarized what many people are probably thinking:
veedotme: I might have t[o] get a #3ds. There's just no #games I want to play on it yet.