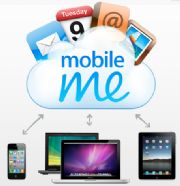 Apple's MobileMe cloud storage service has never been so popular, and the reasons for its newfound regard are fitting. The latest comes from The Music Void, saying that "informed sources" say that MobileMe's new price tag will be $20 per year, an 80 percent decrease from its current price — and a significant deviation from the original rumors of a 100 percent price drop.
Here are four key questions about the overhaul's launch, its new features, and what Google is going to do about it.
When Will it Arrive?
The Music Void's sources say April, when Apple traditionally holds a media event. Last year the company announced iOS 4.0, but since reports say iOS 5.0 will be delayed until this fall — possibly to make room for heavy cloud integration — there's a good chance the MobileMe revamp will be unveiled next month.
What Features Will it Have?
Apple wants everything having to do with MobileMe to live in the cloud. The company recently removed MobileMe's physical software from its retail stores — a clear signal that Apple wants its users to associate MobileMe purely with the cloud.
Along with syncing all of Apple's devices, generating a .Me Web site and email address, and 20GB of combined email and file storage, MobileMe will reportedly become an online locker for iTunes music, enabling device owners to stream their music libraries from wherever.
What music publishers does Apple have already?
Major record labels are wary of putting their entire catalogs in the cloud, but Apple rules 66 percent of digital music sales, so nay-saying music publishers are, simply put, foolish. Yes, I'm looking at you, Sony.
The Music Void reports that Warner is already on board and that Universal Music and EMI are "more or less pushovers." Apple is using its agreement with Warner to leverage the other labels for a speedy launch.
WWGD? (What Will Google Do?)
Apple may have a stranglehold on digital music sales, but that doesn't mean it lacks competition. Google Music is really, seriously, honestly almost here. Google employees have begun testing the Google Music app that syncs music libraries to the cloud and stream to devices.
It's unknown what — if any — record labels are on board with Google Music and how much the service will cost. But if you're the gamblin' sort, I'll put money on Apple rejecting the Google Music app out-of-hand just like it originally did with Google Voice. So, once again, it'll be Android vs. Apple, leaving consumers the choice of where they want to buy, store and stream their music.