It's hard to beat stellar earnings as proof of a technology's business value, and Red Hat provided that for Linux with its Q4 report last week. Adding further fuel to the celebratory open source fires over the past few days, however, have been several batches of awards recognizing the global impact of various free software projects and contributors.
Internet Freedom for Egyptians
Last Tuesday, for example, the Free Software Foundation announced the winners of its two awards for 2010. The first of those–dubbed the Award for Projects of Social Benefit–is given each year to a project "that intentionally and significantly benefits society through collaboration to accomplish an important social task," in the FSF's own words.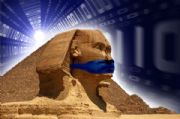 This year, that award went to the Tor Project, a free software project that has enabled roughly 36 million people around the world to maintain their freedom and anonymity on the Internet. The Tor Project has proved pivotal in dissident movements in both Iran and Egypt, the FSF says.
Previous winners of the Award for Projects of Social Benefit have been the Internet Archive, Creative Commons, Groklaw and Wikipedia.
The Award for the Advancement of Free Software is the other award the FSF gives out each year, and it goes to an individual who has made a great contribution to the progress and development of free software. This year, the award went to Rob Savoye, founder and CTO of Open Media Now and a longtime hacker who has worked on GNU and other free software for more than 20 years.
Savoye has contributed to dozens of projects including GCC, GDB, DejaGnu, Newlib, Libgloss, Cygwin, eCos, Expect, multiple major GNU/Linux distributions, and One Laptop Per Child. He has also led the effort to produce the free software Flash player called Gnash.
'Swiss Army Knife of the 21st Century'
Across the Atlantic, meanwhile, the open source Apache Hadoop project took the top prize at this year's MediaGuardian Innovation Awards, which were given out in London last Thursday.
The project's open source software is designed to help companies like Facebook and Twitter process vast amounts of data. As such, it was described by the judging panel as a "Swiss army knife of the 21st century," with the potential to "change the face of media innovations."
Apache Hadoop's potential to be a catalyst for innovation, in fact, exceeds that of other nominees including WikiLeaks and the iPad, in the judges' opinion.
Top 2011 'Linux Gurus'
Last but certainly not least, the Linux Foundation on Monday announced its Top Five 2011 Linux.com Linux Gurus, or the most active Linux.com members over the past year. Linux Gurus are chosen based on the points they accumulate by contributing in many ways to the site, including community blogs and message board posts, comments on articles, blogs and boards, and answers to questions posed by the community.
Linux.com's Ultimate Linux Guru is now Matthew Fillpot, a development and training specialist at an international travel company who has been a Linux.com moderator since early 2009. As the Ultimate Linux Guru, Matthew will receive a fully loaded "Dream Linux Machine."
Aaron Aceves, Andrea Benini, Shane Hatcher and Istimsak Abdulbasir are the other four Linux Gurus for this year. All five will receive invitations to attend this year's Linux Foundation Collaboration Summit, where they will participate in the annual Linux.com Planning Meeting. They'll also receive digital Guru badges to help market their skills to potential employers and demonstrate their status among peers.
Job postings seeking Linux skills are up 47 percent year over year, the Linux Foundation notes, citing jobs site Dice.com. You can see the Top 50 Linux Gurus showcased in a special section on Linux.com.
Can there be any doubt left that free and open source software is a key contributor to business–and the world? I don't think so. Isn't it time your business took advantage of all it has to offer?