An official Twitter account recently sent out spam tweets offering links to a sexy dating service and a more explicit version of chat roulette, according to security researchers.
Somehow two spam accounts, SkypeCamGirls and CamGirlTrenity, were able to get their sexy spam noticed by Twitter's @TopTweets account. TopTweets then helped spread the love with links to sites such as Getiton.com (a site that helps you find your "perfect sexual match") and Camsexroulette.net (a person-to-person Webcam service for voyeurs and exhibitionists), according to F-Secure. Top Tweets is an automated account that uses an algorithm to identify and retweet popular and interesting tweets on the micro-blogging service.
The two spam accounts have since been suspended and their past tweets removed from Twitter. It's unclear if the spam accounts were able to game Twitter's TopTweets algorithm or if the spam accounts used some form of malware to manipulate the micro-blogging service. TopTweets typically retweets messages that have been distributed by at least 100 people or more.
On the bright side, the two spam accounts included a Not Safe For Work (NSFW) hashtag at the end of their tweets to warn away Twitter users wanting to keep it clean. But at least some people on Twitter were into it since nearly 15,000 clicks were sent to the two dirty sites from the bit.ly links being pimped on Twitter.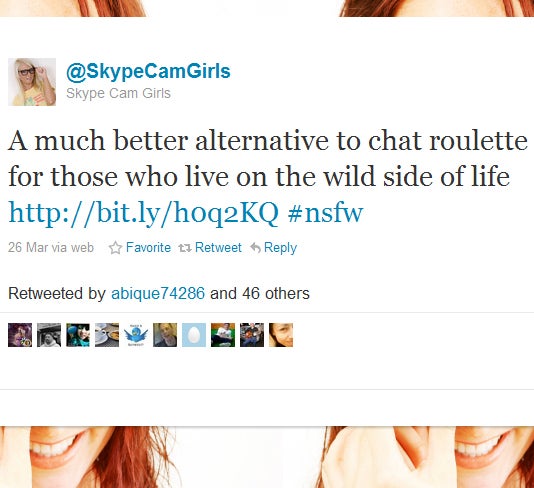 Spam appears to be a growing problem for Twitter. It's not clear how much spam is currently spreading on the service, but there have been more users complaining about junk tweets showing up in their stream. Some complain of getting spam at least once a day, while others find that mentioning the iPad in a tweet can make you a target for spam offering a free tablet device.
At the time of this writing, searching for 'free iPad' on Twitter brought up about 10 Twitter accounts within about a minute of each other offering a free Apple slate. It's not clear if these were hijacked accounts, people trying to make a quick buck by spamming links or accounts controlled by computers. Whatever the source, it appears spam is alive and well on Twitter and able to fool the company's own automated systems.
(Tweet Fail Whale image credit: Admin via SocialMediaSocialMarketing.com)
Connect with Ian Paul (@ianpaul) and Today@PCWorld on Twitter for the latest tech news and analysis.