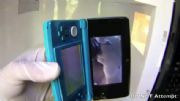 You've seen the hands-on videos, you've read the game reviews, so why is it that no one's thought to put the Nintendo 3DS in a microwave and tap "add 30 seconds"?
Wonder no more. This enterprising user plucked his 3DS out of a box wearing rubber gloves, dropped it in a microwave, and set the timer to 99 minutes, 96 seconds. (Is 99:96 some kind of special code to activate a "stupid human tricks" sleeper cell?)
"DO NOT attempt," reads the disclaimer. As if we needed telling.
Watching a brand new $250 3DS screech and howl and billow clouds of smoke before bursting into flames really is as painful to watch as it sounds. Also: Eminently clickable. Because a video titled "Donating My New Nintendo 3DS To Charity Right Out Of The Box" would probably creep by completely unnoticed.
Interact with Game On: Twitter – Facebook – Get in touch