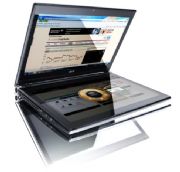 Acer announced Tuesday its groundbreaking Iconia Touchbook, a dual-screen tablet-and-notebook combo, is now available for pre-sale in the US and Canada, at a price of $1200. The Iconia Touchbook turned heads last fall when it first demoed this keyboard-less concept device in New York City. The unique dual-screen view via two 14-inch touch screens promises to offer users a larger, fuller touch experience than you can get from smaller slate tablets like the iPad and Samsung Galaxy Tab.
Running Windows 7 Home Premium rather than a mobile OS, and with the traditional notebook form factor, the Iconia Touchbook may also be better suited for those who would like to reap the benefits of both multi-touch capabilities and powerful desktop-like computing on the go. While it can run Microsoft Office programs and other Windows software, however, the tradeoff is that it won't run iOS or Android apps that are specifically designed for a multi-touch interface.
Our early look at the Iconia Touchscreen (See video below) revealed both promising and possibly disappointing features. The virtual full keyboard, for example, lacks haptic feedback, but our tester found typing on it easier than on the iPad. Acer has put a custom, touch-optimized "Ring" interface for application navigation on the Iconia Touchscreen, and you can create your own gestures with the capable Gesture Editor, leading PC World writer Melissa Perenson to say, "Acer has made huge strides toward revolutionizing how we compute and create using our fingers." Unfortunately she also found that the portable's secondary display exhibited a lot of glare-but since this was an early production model, hopefully Acer has corrected the issue for models that will actually ship.
We've seen the dual-screen tablet and notebook combo concept devices before-in the vaporware Microsoft Courier Tablet and Toshiba's Libretto W100 mini-notebook released last summer. The Iconia Touchbook's Gorilla Glass LED-backlit touchpanels, however, are twice the size of the Libretto W100's two 7-inch touchscreens. With a weight of 6.18 pounds and a very short 3-hour battery life, the Iconia Touchbook also feels more like a full-sized laptop, though Acer describes it as ultra-thin.
Other specs include: a Core i5-480M processor (not Sandy Bridge, unfortunately), integrated Intel HD graphics, 4GB of memory, a 640GB 5400rpm HDD, 3 USB ports (one with USB 3.0), 1.3 megapixel webcam, and HD audio.
Interested in picking up one of the most innovative (and potentially industry-changing) tablets/notebooks released to date? You can pre-order it at Amazon and other online retailers for $1199.99, with greater retail availability in April.
Follow Melanie Pinola (@aboutmobiletech) and Today@PCWorld on Twitter