At a Glance
Expert's Rating
Pros
More attractive than the average netbook
Our Verdict
Slow but colorful with long battery life, this netbook is simply typical of the category.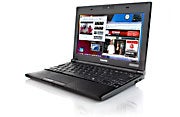 Toshiba's Mini NB505-508GN has two things that separate it from the netbook pack, albeit only slightly: a somewhat better-than-average keyboard and longer-than-average battery life. Okay, make that three things–it's also better-looking than most of its competition with its smooth styling and lime-green lid. Otherwise, the unit is the epitome of the cookie-cutter netbook.
The NB505-508GN scored 33 on PCWorld's WorldBench 6 test suite–a couple of points below average for the class. Part of the problem is that Toshiba saddles the Intel Atom N455 CPU and 1GB of system memory with too much software. Atom CPUs, especially single-core models like the N455, simply don't have the horsepower to handle scores of background applications and processes. Disabling the unnecessary ones–19 of them–in the startup configuration resulted in a much livelier subjective experience. But we benchmark laptops in their out-of-the-box state to better simulate the typical customer experience.
While the Mini NB505 isn't a stellar performer, it does run for quite a while unplugged: 7 hours, 32 minutes in our battery tests, to be exact. That'll get you across the Atlantic doing business tasks, but probably not playing video (our battery tests cycle between simulated typing in a document and lightweight video playback).
The other main components are a 10.1-inch, 1024 by 600 display, and a 250GB, 5400-rpm hard drive. The display has plenty of usable brightness, and renders video very nicely. The Mini NB505 managed well with low to medium bit-rate 720p video, but started choking at high bit rates–typical for Atom netbooks. The Webcam offers one of the smoother, nicer-looking pictures you'll find in a netbook, but audio is the usual tinny-through-the-speakers, decent-through-the-headphones laptop sound.
The model's ports and connectivity options are the standard netbook fare: Three USB 2.0 ports, a VGA port, an SD card slot, microphone and headphone jacks, and a 10/100 ethernet port. The wireless is g/b/n. The keyboard layout is only slightly compressed, so finger-scrunching is minimal. The keys themselves offer a fair amount of travel for a netbook, and, while quiet, still allow you to establish a decent typing rhythm. The touchpad is flush-mounted, and the buttons are mounted even with the front edge of the keyboard deck–by far the best scheme netbook vendors have come up with for feel and ease of use.
As for the software that's piled on top of the Windows 7 Starter operating system, that bundle includes Toshiba's ReelTime–a nice document organizer (that doesn't need to run at startup), a trial of Norton Internet Security, Toshiba's Message Center for update notifications, a comprehensive and highly adjustable Webcam utility, Microsoft Office 2010 Starter, and the ever-useful (not) Google toolbar. The aforementioned background utilities include those for online backup, hard drive status, and so on. Keep what you like and disable the rest using msconfig.exe–you'll like the NB505-508GN a lot better.
Yes, this review is overloaded with the adjectives standard, usual, and cookie-cutter. Don't shoot the messenger–or the vendor; it's the species that has settled into a mind-numbingly routine and somewhat underpowered configuration. If you intend to use the NB505-508GN for what it's tasked for–Web surfing, light e-mail, the occasional short word document–it's as good as you'll find in its price range (around $310, as of 3/29/11). If you want to do more, take a look at something like Lenovo's ThinkPad X120e, which represents the future of the netbook breed.
Note: When you purchase something after clicking links in our articles, we may earn a small commission. Read our affiliate link policy for more details.