American Express has announced plans to enter the online payments market and thereby compete directly with PayPal.
AmEx says the new Serve offering, which it claims is "money re-imagined," is built around mobile phone apps and social networking. However, perhaps crucially for its immediate success, it also incorporates features of a prepaid credit card.
PayPal has seen a variety of competitors, from Google Checkout to Visa's more recent announcement that it will offer person-to-person payments. Indeed, 2011 is shaping up to be an interesting year for online payments. However, no competitor has so far shifted the lumbering giant from its No. 1 spot as the king of online payments, although this is largely enforced by its partnership with eBay.
In most ways, Serve is virtually identical to PayPal. Even the fees are mirrored. Once a user has opened a Serve account they can load it with money from various sources, including credit cards and bank accounts. Assuming the money comes via Automated Clearing House (ACH) from a bank or via a debit card, loading the account is free of charge. If it comes from a credit card, each loading transaction is charged at 2.9 percent of the total, plus 30 cents per transaction.
However, for the next six months these charges are being waived, presumably to entice PayPal members to make the move. That'll be an uphill struggle although all users are automatically issued with a card, accepted anywhere an Amex card is, and as such can make cash withdrawals at ATMs. (The first withdrawal each month is free but there's a $2 charge after that).
From a merchant point of view, receiving money for goods or services via a Serve transfer incurs the same charge as PayPal–2.9 percent, plus a 30 cents per transaction charge. As for merchant fees for card transactions on or offline, Amex says "merchants who accept American Express cards will pay a prepaid discount rate for transactions made both in stores and online." Expect those info packs with door and window stickers to start arriving soon.
Money can be transferred to any other Serve user, just like with PayPal, although a limiting factor right now is that Serve is only available to U.S. residents. It will roll out to other countries later this year. Personal transfers from person to person are free for both parties, provided the money comes from the Serve account itself, or a bank account or via a debit card. Otherwise the same 2.9 percent charge applies (again waved for the next six months).
Perhaps surprisingly, near-field communications (NFC) isn't a feature of Serve–at least not right now. AmEx says it's going to watch the market to see what happens. NFC payments allow users to turn their phones into digital wallets, allowing them to waive phones in front of a terminal to pay for goods, rather than swipe a card. NFC is built into Google's next Android OS release (although whether phone manufacturers will incorporate the corresponding hardware is another matter). It's rumored NFC will also be arriving with Apple's iPhone 5.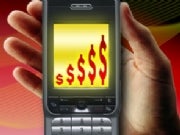 Serve does offer apps for iPhone and Android, but these are largely account management apps that let users do things like check their balance, or send money to and from other users. Having this functionality built-in from the ground up is nice, and it's possible those cost-free transfers could lead to people borrowing and giving each other money via their phones, rather than using cash. But there's been a PayPal app for some time offering the same thing, and that hasn't brought about the downfall of bills and coins.
There is territory to be occupied in the online money transfer marketplace but Serve is a dart that doesn't even hit the board. Put simply, why would anybody want to open a Serve account? Until that question is answered, merchants are not going to be interested either. Any why didn't Serve just wait for NFC to arrive before launching?
The people behind Serve need to go back to the drawing board. Firstly, they've got to permanently undercut PayPal. Otherwise there simply isn't a reason to use Serve in the majority of situations online. Secondly, they have to show the way forward with NFC payments. Only then will they give us a reason to use Serve.