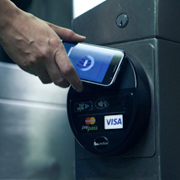 Microsoft is jumping on the one-swipe mobile payment bandwagon by introducing Near Field Communications (NFC) technology to Windows Phone 7, according to online rumors. NFC would allow Phone 7 users to pay for items such as subway tickets, groceries and drug store purchases by waving their handsets in front of a machine. The mobile payment technology could be part of the Phone 7 operating system later in 2011, according to two people familiar with the plans who spoke to Bloomberg Businessweek.
NFC appears set to become the next popular feature for new smartphones this year. The technology relies on a card reader at the cash register and an NFC chip embedded in your phone to transmit data.
Google added NFC capability to Android handsets with Android 2.3 (Gingerbread) in December. Samsung's Nexus S was the first Android phone to come with an NFC chip when Gingerbread launched and many more NFC-capable Android handsets are expected in the coming months.
Google is currently testing NFC in Portland, Ore., as a one-swipe search solution. The pilot project uses promotional decals on shop windows that allow people to swipe NFC-enabled phones to get information from Google Places such as store hours, address, phone number and customer reviews. There are also rumors that Google is testing its own line up of NFC machines in New York and San Francisco, and The Wall Street Journal recently reported Google was working with Citigroup and MasterCard to implement an NFC one-swipe payment system for Android phones.
Apple is also rumored to be bringing NFC to iOS devices such as the iPhone and iPad, but the rumors are shaky at best. Visa in 2010 experimented with NFC for iPhones with a special case for the iPhone 3G and 3GS.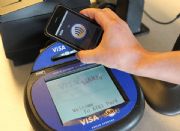 Despite its use in other parts of the world, NFC payment systems embedded in smartphones have been slow to catch on in the United States. Although, that is expected to change this year.
Given Google's interest in NFC payments, it's no surprise that Microsoft wants to follow suit. The two companies have similar mobile strategies that focus on producing mobile OS software instead of creating both mobile software and hardware as Apple and Research In Motion do. Microsoft's new agreement to become the primary platform for Nokia phones in 2012 may also give the company a wider platform to introduce Windows Phone 7-styled NFC.
Connect with Ian Paul ( @ianpaul ) and Today@PCWorld on Twitter for the latest tech news and analysis.