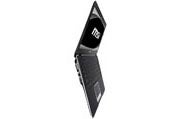 The latest entry in the ultra-slim laptop stakes is the MSI X-Slim X-370. The X-370, announced today, joins the growing ranks of ultra-slim portable notebooks like the MacBook Air and Samsung Series 9. The X-370 runs the latest AMD Fusion processor, is less than an inch thick, and weighs just a bit over 3 pounds, making it a serious ultraportable contender.
Though it may lack the show-stopping looks of the Series 9 or MacBook Air, MSI has designed the X-370 with stylish touches: An etched checkerboard design and shimmering color film print on the cover, set off by silver trim. With a slight dig at its competitors, MSI says these design decisions add up to "a stylish notebook that is elegant without being ostentatious."
The X-370 features a 13.4-inch HD widescreen display and AMD's dual core E-350 processor with integrated AMD Radeon HD 6310 graphics chip. As we've seen previously, the AMD Fusion processor enables greater performance with less power consumption. MSI says the X-370 should have a battery life rating of up to 10 hours (about 3 to 3.5 hours more than the MacBook Air and Samsung Series 9 claim).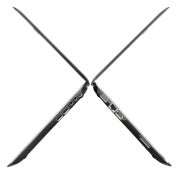 Other announced specs include: DDR 3 memory (installed memory/capacity not yet revealed), 320GB/500GB/640GB 5400rpm SATA hard drive, SRS PC Sound, an HDMI port, 2 USB 2.0 ports, and the option for either Windows 7 Home Premium or Basic (64-bit). MSI has also added a 1.3-megapixel webcam that taps into included facial recognition software to help you log into websites biometrically.
Weighing in at 3.09 pounds and measuring 0.898 inches thick, the X-370 is about two-tenths thicker and heavier than the Series 9 and MacBook Air–a negligible difference, perhaps, especially if MSI can offer competitive pricing (versus the Series 9's hefty $1649 price tag and the MacBook Air's $1299-1599 range). No official price or release date has been announced as of yet.
Stay tuned, as more laptop manufacturers realize that thin is definitely in.
Follow Melanie Pinola (@aboutmobiletech) and Today@PCWorld on Twitter