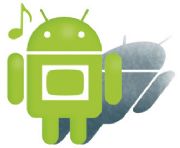 Media streaming is nothing new to Android users; we've been enjoying our music from the cloud for some time, thanks to the mSpot Music app. Now, Amazon has its own media-streaming app called Cloud Drive. Both apps allow you to sync your desktop music folder to the cloud, so with either one you can access your media library via the associated Website or mobile app. But how do the two services compare on mobile performance, features, and design/usability? We pitted mSpot Music and Amazon Cloud Drive against each other to see which one would come out on top.
Performance
Both mSpot's and Amazon's mobile apps do an excellent job of navigating through menus and connecting to their respective cloud servers. I found that Amazon's was a bit faster at updating added or removed files, but streaming over 3G was often spotty because songs had to buffer constantly. mSpot Music, though slower in syncing music, played songs much more efficiently over 3G. Songs never paused to buffer, and they sounded great.
Winner: mSpot Music
Features
mSpot may be better at streaming music, but Amazon definitely has a leg up in the abilities of its mobile app. The Amazon Cloud Player is bundled with the Amazon MP3 store, giving users access to thousands of songs on the go. In addition, you can use Cloud Drive to store videos, documents, and photos (though you cannot yet view them through the Amazon MP3 app). On amount of available storage, Amazon wins again: You can purchase up to 1000GB of cloud storage from Amazon, while mSpot offers a maximum of 40GB. Both services offer 5GB of data for free to get you started, but you'll have to pay to upgrade.
Winner: Amazon Cloud Drive
Design/Usability
Aesthetically, I preferred Amazon's app over mSpot's. Amazon MP3 was extremely easy to use and looked great as well. Buttons were easy to press, album art looked gorgeous, and moving between the player and the store was seamless. However, mSpot's method of uploading music to the cloud was relatively hassle-free: You designate a folder on your desktop to sync to the cloud, and any music that you add or remove from that folder gets updated in your mSpot account. So if you sync your iTunes music folder, all of your songs, ratings, playlists, and album art become available wherever you go.
If you want to update the music in your Cloud Drive, you'll have to do it manually. You can upload multiple songs at once, but you must upload any new music you get (other than by buying it from Amazon's MP3 store) from your computer. Another downside of Amazon's service is that it requires Flash to access, so iOS devices (like the iPhone and iPad) and older Android phones (running 2.1 and older) can't access the Cloud Drive or Player from their mobile browsers. The mSpot Website is universally accessible and the service offers a separate app for iPhones and iPads.
Winner: mSpot Music
Conclusion
mSpot Music is good for people who want to focus on streaming music and don't have a 4G phone or a massive (over 40GB) music collection. Because the Amazon Cloud Drive accepts various types of file formats, I've begun to use it as a second Dropbox. If you need a lot of space or primarily buy your music from Amazon, Amazon MP3 is probably a better fit.
Whichever streaming service you decide to go with, be sure to keep an eye on how much data you use. The last thing you want to discover after rocking out all month is that your bill is huge because you exceeded your data cap.