Happy World Backup Day! What do you mean you didn't know? Should I throw away the cake I made?
World Backup Day (WBD) was proposed about a week ago by some members of Reddit, the social bookmarking Web site, and has caught on in the way things do online: A Web site was created within hours and there's a Twitter account (my favorite tweet, which attempts to get rapper 50 cent to help publicize the event: "@50cent you got bullets to back you up, but do you back up your data?")
More importantly, WBD is supported by a handful of organizations who are using the day to make special offers and product announcements.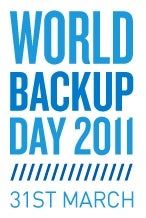 WBD's timing one day before April 1 isn't coincidental, and nobody should be made an April's Fool if their hard drive dies or they accidentally wipe 10 years of family vacation photos. However, those behind WBD are keen to point out that aim of the day is to raise awareness about backup, and not simply remind people to do so. After all, backing up should be done every week or even every day.
Sadly, backup is one of those dull and monotonous tasks that few of us take seriously. A survey last year showed that almost 90 percent of home PC users don't do regular backups, and that around 67 percent had lost data because of it. Another survey suggested that one third of home users don't even backup at all. As for small to medium-sized businesses (SMBs), a survey from Symantec earlier this year showed that around half don't have a disaster recovery plan should catastrophic data loss occur, and only half of SMBs surveyed back up their data weekly. Only 23 percent back up daily.
Mozy has chosen WBD to announce an iPhone client for its cloud backup service, which allows users to delve into backups to fetch documents and pictures. The app should give Mozy the more immediate and accessible feel that rivals like Dropbox have. An client for Android phones is in beta testing at the moment and should be available soon.
A handful of special offers are also listed on the WBD Web site: SpiderOak is giving away 5GB of cloud storage for life (over twice as much as the usual free taster offer), while MiMedia is offering 25 percent off its backup plans. Backblaze is offering a similar 10 percent discount on its services.
There are essentially three ways to backup data when it comes to workstations: to an external hard disk (such as a network-attached storage device), to a CD/DVD/Blu-Ray disc, or using a cloud storage provider like those listed above. Elsewhere on PCWorld, I provide an introductory guide to finding a good cloud backup service for workstations.
In honor of WBD, the Lifehacker blog has asked its users for their recommendations for backup solutions across all kinds of devices, and it makes interesting reading.
Personally speaking, I prefer online backup. If my house is destroyed in a fire or burgled then I'll have access to my data as soon as I can get to a computer. There's a lot of hype about cloud security but the data is entirely safe so long as it's properly encrypted (and all cloud backup clients I've seen use strong, unbreakable encryption). Even if a hacker gets hold of your data, they won't be able to do anything with it.
In addition to encouraging us to backup, those behind WBD point out we should periodically test backups by attempting to fully restore data from them. I once created a tape backup system for a server but unfortunately it stopped recording data at some point, despite seeming to do so and reporting success each time. We only found out when a hard disk crashed and we had to run a restore, by which point it was just too late.
There have been other attempts to raise the awareness about backup in the past (for the last few years June has been designated Backup Awareness Month, for example), but World Backup Day seems to have captured people's imaginations. I look forward to seeing more about it this time next year, when it's more established. It already looks as if more companies would have liked to have been involved in terms of special offers or freebies to entice new users, but simply didn't have time to get anything together.