It's April Fools' Day 2011 and there is no shortage of geek-themed jokes lurking around every corner of the Internet today. There's a sad announcement for European fans of Spotify, Hulu is taking a giant technological leap backwards, Gmail has a new feature inspired by Microsoft Kinect, and Google is finally offering a job that doesn't require an engineering degree. Check out this list of the top 10 April Fools' Day Fake News Item for 2011. And remember, if you find something online that seems to good to be true today, it probably is.
Spotify Lands In U.S., Dumps Europe
Top marks go to TechCrunch's Paul Carr who broke the news Friday morning that music subscription service Spotify would finally launch in the U.S. as early as next week. The bad news is Spotify had to shut down its entire European operation to afford costly music licensing fees in the U.S. The piece quotes Spotify investor and former Facebook President Sean Parker as saying, "Europe isn't cool. You know what's cool? America."
Hulu Goes 1996
Ever wonder what Hulu would look like on a computer running Windows 95? Now you can find out. Landing on Hulu.com today you'll get to see the premium video site in all its retro glory complete with videos for the latest episodes of the X-Files, Murder One, Kids In The Hall and The Dana Carvey Show. The site even loads images as if you were on dial-up and honors all the bad Web design techniques from the period including scrolling marquees and flashing text elements. The adverts for Netscape Navigator 3.0 and Internet Explorer at the bottom of the page were also a brilliant touch.
Angry Nerds
Tired of Angry Birds? Try out Angry Nerds from software development company Atlassian. Try your hand at crashing these geeky versions of Rovio's popular game characters into software bugs hidden underneath 1s and 0s. You can find the full-screen version of Angry Nerds here.
Google's Autocompleter
Turns out Google's autocomplete feature, where suggestions appear underneath your search query as you type, is powered by people not computers. Can you type "so fast that you can do 20 searches before your mom does 1?" If so check out Google's job listings to see if you have what it takes to be a Google Autocompleter. The job is based at Google's Mountain View, California office as well as "obscure locations around the world."
Job requirements include a minimum typing speed of 32,000 words per minute, and a willingness to travel or relocate to obscure places like Nauru and Tuvalu to develop knowledge of local news and trends. A certificate in psychic reading is strongly preferred. Check out this video to see what's it's like to be a Google Autocompleter:
Reddit Mold

Those tricky Redditors are always up to something on April Fools' Day with pranks that have actual consequences. Last year they made everyone on the site an admin for the day, and this year they've cooked up Reddit Mold.
If someone gives you Reddit Mold on your profile you can only view 490 comments at once instead of the usual 500 maximum, and every time you get more mold you load ten fewer comments. You also lose the ability to type with the letter "e" on Reddit, and you lose another letter every time you someone gives you more mold. The bad news is that the virtual fungus is hard to come by as the spores to grow Reddit Mold were handed out a few days ago and only to a limited number of people. But if you buy Reddit's virtual gift currency, Reddit Gold, you'll be able to buy some spores and throw mold at your friends for today only. I haven't seen any Reddit Mold in the wild, but if you've been hit let us know in the comments. And kudos to Reddit for figuring out how to monetize April Fools' Day.
Groupon Patent
Honoring the great tech tradition of holding ridiculous patents and suing everyone on the planet, Groupon announced on Friday its intention to patent April Fools' Day. "Everyone's favorite day of daffiness finally has a new owner — Groupon!" reads the company's Web page announcing the patent application. "Groupon's acquisition of the previously unprofitable April Fools' DayTM gives consumers more choices and better options. You'll never again be confused by other corporations' April 1 pranks, since Groupon will be taking friendly, but swift, but hostile, legal actions against any nonlicensed April Fools' DayTM joke." Check out Groupon's patent application (PDF) for more information about the company's new "system and method for performing jocular activities on an unsuspecting individual on a particular date."
Google Goes Comic Sans
After rigorous testing Google announced that as of Monday, April 4, 2011, all Google products will use the Comic Sans font. "Whether it's search results, text ads, emails, or documents, our research has consistently shown that the most effective way to achieve user happiness and higher conversion rates is to use the Comic Sans font," Google said in its announcement.
If you can't wait for Monday and want to get in on the Comic Sans action right now download Google's Comic Sans For Everyone Chrome extension. This will force every Web page you visit to display its text in Comic Sans. As an added bonus try searching for "Helvetica" on Google today.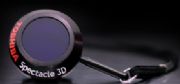 Toshiba Spectacle
Don't spring for a new set of 3D glasses for your HDTV just yet, because Toshiba announced its new 3D monocle coming soon to stores. Called the Toshiba Spectacle this modern take on the single-lens eyeglass offers you "one-eyed 3D so real, you'd think you were using both eyes," according to Toshiba. The company warns that you shouldn't use one monocle in each eye at the same time as this "may cause each device to render the corresponding 3D image in 3D yet again, resulting in an uncomfortable and infinite loop." Pricing and availability for the Spectacle were not announced.
Gmail Motion
Gmail is announcing a brand new way to navigate your Gmail inbox with the new Gmail Motion feature. The feature uses your Webcam to monitor your movements and turn them into corresponding actions in Gmail. Point your thumb behind you to reply to a message, send email by licking your finger and stamping your message, and use simple poses to type common phrases. Standing in a 'T' shape, for example, corresponds to typing 'I Love You.'
Download the basic Motion guide here (PDF). Google says Motion will also be coming to Google Docs soon for use in collaborative work projects.
LinkedIn Recommendations
LinkedIn users should check out the "People You May Know" section on their LinkedIn home pages today. The business-oriented social network is surfacing potentially important contacts for you such as Albert Einstein, J.R.R. Tolkien, Sherlock Holmes and John Watson, Ernest Hemingway, and Robin Hood who is listed as an "activist/chief fundraiser at Nottingham."
That's the ten best pranks I found today, but if you can't get enough April Fools' Day shenanigans, then check out Think Geek's Playmobil Apple Store Playset and don't forget to buy the optional line pack for major product releases.
Starbucks is announcing a new location-based iPhone app called Starbucks Mobile Pour. The app lets you order a drink and a barista will find you based on your GPS coordinates to deliver your order — yeah, I thought they should do this one for real, too.
Finally, Kodak is offering you the chance to get a permanent photo tattoo. Nothing says cool like getting a photograph of your girlfriend embedded in your skin for the rest of your life.
Connect with Ian Paul (@ianpaul) and Today@PCWorld on Twitter for the latest tech news and analysis.