There's trouble brewing at Acer. Gianfranco Lanci stepped down Thursday as president and CEO of the Taiwan-based computer giant, which is struggling with declining revenue and sagging interest in its products in the key US and Western Europe markets. Analysts say the company needs to focus less on conventional PCs and more on where the action is: smartphones and tablets, two categories in which Acer is woefully trailing the pack.
An April 1st Bloomberg report has a stunning statistic: Apple had a 21.5 percent profit margin in its last fiscal year, while Acer's was a measly 2.3 percent.
This shows that Acer, like its Windows PC counterparts, is competing mostly on price in the consumer laptop arena. (It also suggests that folks who pay $2,500 for a top-of-the-line, 17-inch MacBook Pro are getting seriously fleeced, but that's a story for another time.)
What can Acer do to distinguish itself? Being less boring would be a good start. I own an Acer laptop. It's a reasonably fast Windows 7 model with 4 gigs of memory, a 2.1GHz AMD processor, and a 320GB hard drive. I bought it on Amazon for $580–a great price.
My Acer laptop works just fine. That said, it's a generic piece of hardware that fails to stand out in a crowded market. Cover up the corporate logo with a piece of masking tape, and there's little to distinguish most Acer portables from similarly-priced Dell or HP machines.
Acer's decision to focus on netbooks–another generic, low-margin category–when consumers were snapping up iPads certainly hasn't helped the bottom line, either.
Where's The Cool Stuff?
It's not fair to call Acer boring because the company is building some innovative hardware. The problem is, you haven't heard much about it.
After dragging its feet in the tablet market, Acer this week finally introduced its Iconia Touchbook, a dual-screen tablet/notebook hybrid that will sell in the US and Canada for $1,200. Early reviews are mixed; PCWorld's reviewer knocked the product's virtual keyboard, which lacks haptic feedback, but added that the Iconia was easier to type on than the iPad.
But hybrid products are a tough sell: too often they do multiple tasks poorly. And the Iconia's steep price tag won't sway customers shopping for a $500 tablet.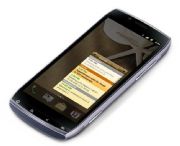 As for smartphones, yes, Acer makes them. At the Mobile World Congress in February, the company announced the Iconia Smart, a high-end handset with a gargantuan 4.8-inch screen. It's unclear when the phone will ship, however, or what it will cost.
Acer expects to sell 5 million phones globally this year, including the stylish Liquid and lower-cost beTouch models, but it remains an also-ran in the North American smartphone market.
So maybe Acer's problem is that it's really bad at marketing. Its generic, PC-maker image isn't cutting it, and the company needs to make some bold moves to change course. With this week's managerial shuffling, it appears that's already happening.
Contact Jeff Bertolucci via Twitter (@jbertolucci ) or at jbertolucci.blogspot.com .