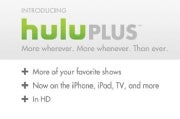 Premium online video streaming via Hulu Plus is now open to the public. Previously, users needed an invitation to join Hulu Plus, which is the for-pay premium section of the online video streaming site Hulu.
A joint venture of entertainment industry behemoths Disney, News Corp., and NBC Universal, Hulu Plus costs $10 a month and streams content from ABC, NBC, Fox, and other content providers. CBS is conspicuously absent–bad news for fans of "Two and a Half Men" who might have missed Charlie Sheen's numerous appearances on TMZ.
Hulu Plus did a dress rehearsal in June, when it announced a soft launch available to a select group of invitees. But now the service is open to all, product director Rob Wong writes in a November 4 blog post.
For network television fans who've dropped their pricey cable TV subscriptions, Hulu Plus is an affordable way to keep up with all the current shows. And the service's deep catalog of TV classics–we're talking 97 episodes of "Doogie Howser, M.D."–is a boon for viewers who don't get cable channels such as Nick at Night and TV Land.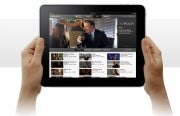 Hulu Plus streams shows in high-def (720p) resolution. It works with a limited number of devices so far, including Apple's iPhone, iPad, and iPod touch; Samsung and Sony TVs; the Sony PlayStation 3 game console; and several Blu-ray players. Support for the TiVo Premiere DVR, Microsoft Xbox 360 console, and Roku set-top box are coming soon, according to the company.
Hulu Plus episodes, like their counterparts on the standard Hulu service, will have commercials. While Hulu is free, its content selection is limited. For instance, it may feature brief clips (not full episodes) from some shows, and it lacks Hulu Plus' extensive back catalog.
Netflix may be Hulu Plus's biggest competitor, but the two streaming services are far from identical. For instance, Netflix's online service starts at $9 a month and has an extensive catalog of movies and TV shows. However, it lacks episodes from the current season, and some TV shows from yesteryear are available only on DVD/Blu-ray.
As I see it, movie buffs will prefer Netflix, while diehard TV fans will opt for Hulu Plus.
Contact Jeff Bertolucci via Twitter (@jbertolucci) or at jbertolucci.blogspot.com.