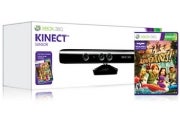 Microsoft's Kinect motion controller for Xbox 360 has been out in the wild for 24 hours and what a bumpy ride it's been so far. Before most stores had even opened their doors Wednesday morning there were reports that Kinect was having problems with its facial recognition technology. Later, Microsoft got a little testy when someone put a $2000 hacker's bounty on the device, worries about availability appear to be overblown, and Kinect was torn apart to reveal the $150 device's innards. Here's a look at Kinect's first 24 hours.
Not Racist
GameSpot UK reported Thursday that Kinect's facial recognition technology did not work for dark-skinned people. Kinect's facial recognition allows you to sign-in to their Xbox 360 instead of entering your login credentials manually. The facial recognition problems did not affect the Kinect's gameplay capabilities.
Consumer Reports looked into the charges and found that Kinect had problems recognizing faces, regardless of skin color, in low-light situations. "We did not experience any instance where one player was recognized and the other wasn't under the same lighting conditions," Consumer Reports said.
Kinect's problems echoed a similar story from December 2009 where facial recognition technology on Hewlett-Packard laptops was having problems identifying darker skin tones.
Not Sold Out
In October, Microsoft said Kinect devices were "rapidly selling out," suggesting that users should get their orders in quick if they wanted one at launch. Twenty-four hours after Kinect's debut, it appears to be a popular device, but is not exactly flying off the shelves. A quick check of online stores reveals that most major retailers including Best Buy, Dell, Toys R Us, and Wal-Mart were well stocked. One online retailer, New Egg, was sold out of Kinect devices.
Microsoft has not released any first day sales reports for the Kinect, but the company is bullish about the motion controller's prospects. The software giant upped its forecast for the holiday season by 67 percent predicting 5 million Kinect devices sold by the end of the year, according to Information Week.
Teardown
The teardown kings over at iFixit couldn't wait to get their hands on Kinect to see what secrets it holds. Turns out the device features four microphones for voice commands, two cameras about the size of a regular Web cam, one infrared projector, three-axis gyroscope, and 512 Megabits (64 MB) of DDR2 RAM. The iFixit guys also said the Kinect has a very tiny motor with three fragile plastic gears. "We're guessing this motor assembly will be the Kinect's weak point," iFixit said. "Do not physically force the Kinect into a specific position-allow it to automatically calibrate its aim."
The DIY site did not offer a cost estimate for the Kinect as iSuppli recently did for the Galaxy Tab teardown.
OK Bounty Not Okay with Microsoft
The Do-it-yourself electronics kit retailer Adafruit Industries is offering a $2,000 bounty for the first hacker to write open source software drivers for Kinect. The point of the contest is to get software that will let the Kinect work on any system you want such as your Windows PC, Mac or Linux box.
Adafruit is calling the bounty the OK Prize or Open Kinect Prize and will be awarded to anyone who can demonstrate a working Kinect device using open source drivers. The winner must also upload their code to GitHub.
Microsoft appears to be displeased with Adafruit's proposition saying it would "work closely with law enforcement and product safety groups to keep Kinect tamper-resistant," according to CNET.
Adafruit Industries was originally offering a $1000 bounty for the OK Prize, but cheekily upped the award to $2000 after Microsoft released its statement.
Connect with Ian Paul (@ianpaul) and Today@PCWorld on Twitter for the latest tech news and analysis.