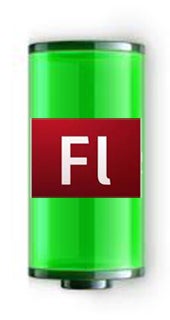 Ditching Adobe Flash on your Apple MacBook Air can extend your battery life by two hours, according to reports. Chris Foresman at Ars Technica discovered battery life in the new MacBook Airs is 33 percent longer without the Flash plugin installed. According to his tests, having Flash installed shaved two hours off the laptop's battery life.
The revelation puts Apple's notorious Flash trash-talk into perspective. Apple has long maintained Adobe Flash poses a security risk to systems. But the added benefit of battery life might also be part of the unspoken reason Apple doesn't ship with Flash installed on MacBook Air systems. Think about it: If Apple did ship MacBook Air systems with Flash, then it would lose two hours of battery life bragging rights.
Apple officially says it doesn't pre-install Flash so users have a chance to download the most recent and secure version available.
At the moment it's unclear whether this applies to other laptops in the MacBook range, but considering basically the same technology is used throughout, results will be similar. I have been using the Flash-blocking ClickToFlash plugin for the past few weeks on a 2009 MacBook Pro, and also noticed battery life improvements; but more importantly, the laptop does not get as hot when it displays multiple tabs with Flash content in the browser.
It's worth noting that Microsoft hasn't been bundling Adobe Flash with Windows since Vista came out in 2007, though an ActiveX control allows users to automatically install the plugin via placeholders within a webpage. Microsoft also kept clear of Flash on its new Windows Phone 7 OS, which doesn't support the technology.
Google however, was not shy to incorporate the technology in its Android mobile OS, but early returns were a mixed bag. Research In Motion is also bundling Flash on its upcoming PlayBook tablet.
Follow Daniel Ionescu and Today@PCWorld on Twitter.