I use my inbox as a kind of to-do list, marking as unread any messages I need to act on later or don't have time to answer right now. The problem is, as my inbox fills up, these e-mails get pushed lower and lower, until eventually they're forced out of sight–and out of mind.
What I need is a way to resend those messages to myself at a later time so they're not forgotten. Enter Nudgemail, a reminder service that's as easy as it is clever.
Let's say I get an e-mail on Wednesday about a big sale that's happening this weekend. This information doesn't help me now; I need a reminder to come on Saturday when I have time to go shopping.
All I do is forward the e-mail to saturday@nudgemail.com. If Saturday comes and I need to put off my shopping till Sunday, I can forward again to tomorrow@nudgemail.com. Or if I just want to delay it for a couple hours: 2h@nudgemail.com. You get the idea. (See the How To page for more examples of the syntax.)
The service isn't just for forwarded e-mail, either–you can just as easily use it for any kind of reminder. Simply create a new message, address it to nudge@nudgemail.com, put the delivery particulars in the Subject line ("November 11," for example), and then whatever info you need in the Body.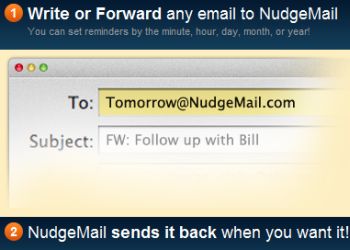 Amazingly, Nudgemail requires no sign-up or registration of any kind, nor even a password. There's nothing to install, and it works with every PC and device that can send and receive e-mail. To start using it, you just start sending or forwarding messages. Gotta love that kind of simplicity.
The service is currently in "free private beta," though a company rep told me it is indeed open to the public. When it launches, Nudgemail will offer both free and premium options.
While you're at it, check out fellow PC World columnist Dave Johnson's coverage of the very similar Laytr (also free while in beta). I haven't tried that one myself, but if it's anything like Nudgemail, you'll love it.